There is a Clear Channel bus shelter on Kensington High Street (an upmarket suburb in London) that proudly shows a large NFC icon.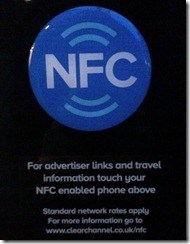 As I have one of the few commercially available NFC handsets in the UK (a Blackberry 9900), I decided to turn on the NFC function and tap my phone on the big blue NFC logo.
When I did this, this is what I received.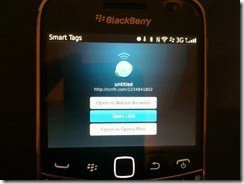 Clicking on the link delivered the following
The Canon winter cashback offer directed me to www.canon.co.uk/wintercashback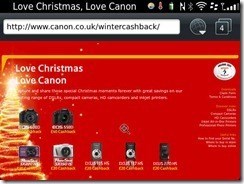 which is a NON mobile optimised website, as a result of a mobile NFC read on a poster that is outdoors.
NFC fail – so NFC yet so far – a long way to go Clear Channel.
I know that your London Digital 6 sheets are all the rage, and you are promoting "interaction through NFC and social media", but you need to make the target content viewable on a mobile!
A few weeks ago, one of the panels on this outdoor screen encouraged me to "tweet how you're feeling as a colour to @cc_play"
I did this – received no response and I am the ONLY follower of the @cc_play account!
If this is interaction through NFC and social media in 2011 then we have a loooong way to go!
I wonder how many advertisers being sold the "London Digital 6 sheets" are being given the NFC/twitter stats on these posters?
Hats off to Clear Channel for trying though!