Many people have read my review of the new EE 4G service – it has been my all-time most popular post.
You can also read it here Don't move to 4G on EE just yet – they're not ready for you
In this post I explained how poor processes (sending me the wrong SIM card multiple times), as well as almost criminal brand confusion resulted in a very bad first impression with the new 4G network from Everything Everywhere here in the UK.
The fact that less than 16 hours after I wrote the post, at around 6:30pm on a cold Saturday night, it has been tweeted and retweeted multiple times, and delivered my biggest day ever in terms of blog traffic.
All afternoon as I type, I have been sustaining 18, sometimes 30 concurrent visitors to the blog (as measured by GetClicky)
I've been writing about social business since 2009, and of all the posts that explain what has happened with EE the most, it is this one titled
In this post, I talked about how Dave Evans summed up why social has become so important for companies:
Marketing sets the expectation, marketing creates demand, marketing helps a consumer differentiate why one choice is better than another choice.
Operations delivers.
Any gap between the two drives a conversation on the social Web.
The EE problems mentioned in my previous post are a gold class case study in how operations can completely destroy all the great work delivered by marketing.
I thank EE for such an amazing case study that I will be using for years to come – it is just so clear in how the marketing and operations teams are in two different worlds, and their launch issues are being played out very publicly on social media.
First – the marketing side
Hats off to EE and their agency – some really nice ads – literally EVERYWHERE to promote their new service.
They have taken over pages in national newspapers like the examples below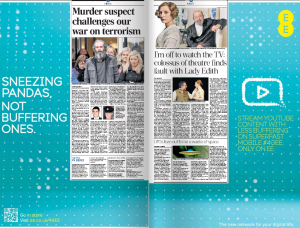 EE had a huge launch party at Battersea Power station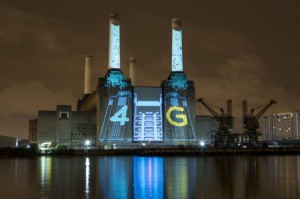 And Nicole Scherzinger wore a "Twitter Dress"
They even have a flashy ad with Kevin Bacon, expanding on the "six degrees of separation form Kevin Bacon" meme…
Top tech influencers like Stephen Fry also weighed in on how fast the network is.
4-geeeee! Somewhat dazzled by #4GEE – pic.twitter.com/Wst4mN8A

— Stephen Fry (@stephenfry) November 2, 2012
So that ticks off the "Marketing sets the expectation, marketing creates demand, marketing helps a consumer differentiate why one choice is better than another choice." part.
I bet the EE PR team are proud of what they did (and they should be).
Next – operations delivers.
From my post, and the comments I have received on Twitter since, I am not alone in seeing the EE operations issues.
Orange CC told me they didn't know much about rebrand either RT @adebradley: cautionary blog from an @ee early adopter: http://t.co/uxq8Tep6

— Matthew Ruddle (on Paternity Leave) (@RuddleMatthew) November 4, 2012
Not surprised. EE is still Tmob at heart. Shameful. "@jongold: This mirrors my service with the utterly awful @ee – http://t.co/dgzknMWs"

— Arush (@arush) November 4, 2012
"@jongold: This mirrors my service with the utterly awful @ee – http://t.co/rWuMyqpw" bigger they market themselves the harder they fall.

— ⦿ Alex (@alexhorre) November 4, 2012
And then the reason i left…. Rt I'm waiting for 4G to mature in the UK. Read @AndrewGrill's latest post to see why – http://t.co/WaHod7bw

— sicrowhurst (@sicrowhurst) November 3, 2012
And so, all of this great marketing was undone by poor operational execution (with some very poor branding decisions with their 3 brands), and as such tech influencers like myself vented their frustration on social media.
"Any gap between the two drives a conversation on the social Web."
I didn't actually want to or expect to have to post my experiences, but it was the EE tech support person who told me to complain that I needed to go to their website and fill out a form that drove me to write the post.
Clearly EE is not a social business yet.
If they had, they would have my @andrewgrill twitter handle linked to my account. I know that it is not linked because the EE tech supervisor told me a note had been left on my account to say that "the customer will retweet EE when he gets the service working".
A social business would have all of my interactions listed on my account.
A social business would have accessed my Kred score (892/8)
A social business would have seen the great map of the top London social media influencers put together by Tempero's Simtan Bacha and Lisa Brooker and seen how many people I influence with my opinions.
Since I outlined the EE problems I have been facing, I saw an interesting comment from Benjamin Dyer – about all of the RTs of my post
So many people on my timeline are RTing @andrewgrill's post about @ee cockup I hope they offer him a free month or two: http://t.co/Gm5mS8ZE

— Benjamin Dyer (@benjamindyer) November 3, 2012
What has my post about EE cost them in lost sales?
Let's do a back of the envelope calculation.
1,000 people have read the post.
Let's say 30% of those were likely EE customers, based on the fact that if you were reading the post, you were interested in how the EE service performs.
Let's say of those 30% they would have taken up a contract with EE for the minimum plan of £36/month for 24 months = £864
So 300 x £864 = £259,200 and that is for just one person and one blog post.
Multiply this by the other issues reported above, and the fact that all the early adopters are talking and you could have millions of pounds of lost revenue from some simple operational mistakes.
Clearly, being a social business should be a priority now for EE so they can capture and fix these issues earlier, and also they need to reach out to more than just the Stephen Frys of the world to help them promote the service.
I'll bet a year of 4G mobile broadband that both Stephen Fry and Nicole Scherzinger didn't pay for their EE devices of plans.
What EE needs to do is to keep the real advocates (not celebrities) happy – people like me that pay full price for the service, like it and then go onto advocate that others do the same.
Read my post about how Celebrities are becoming less important in promoting products and services now we have real influencers and advocates thanks to social media.
Of course we'll never know the true cost of my blog post on EE's revenues – but Paul Clarke makes the case perfectly with this great tweet
How @ee managed to make the biggest mess of a promising early adopter relationship, by @andrewgrill http://t.co/fhUWOL1R

— Paul Clarke (@paul_clarke) November 3, 2012