After suggesting to the UK's only 4G operator EE that they set up an Advocate program to address some of the initial activation issues many experienced (including myself), the day finally arrived when the Advocates were presented with their devices to test.
Gabrielle Laine-Peters has the iPad Mini
I have the iPad 4G model with retina display (32GB model)
Neville Hobson has the new Galaxy S3 LTE
Paul Clarke (not pictured) has the Samsung Note 2 LTE
Ewan MacLeod (not pictured) has the E598 MiFi
As part of the advocate program, EE has provided these devices to us free of change, along with 8GB of data per month for 12 months in return for posting or tweeting at least once a month about our experience on 4G from EE. We are completely free to say what we like and EE has no editorial control over what we write or tweet (nor should they).
The new iPad
Having owned an iPad 1 since 2010, I was looking forward to see how the device had improved over 4 iterations. The first thing you notice is the really clear retina screen. Photos and websites come alive in the high-res screen. In fact I am publishing this post on the iPad while sitting at a coffee shop in London, while connected to EE at 4G speeds.
Having the new A6 processor means that the device motors along compared to the original iPad.
Where Youtube and Vimeo videos used to buffer regularly (allowing my daughter to learn a new word as she wanted to understand just why she had to wait to see the latest episode of Mr Bean), the iPad 4 suffers from none of this, either on WiFi or 4G.
As my iPad 1 is the WiFi only version, I was also keen to see what it was like to have a cellular connection on the device when out of range of WiFi.
4G from EE is super fast!
Having worked for mobile operators Optus and Telstra in Australia, I know just how complex mobile networks can be.
While my initial activation issues with EE are well documented (and the reason behind why I have an iPad provided by them), I can't fault the speed and performance of the 4G network itself.
Data geeks like me always try and see just how fast our device will go, and I've managed to get the device up to 52MB/s in London.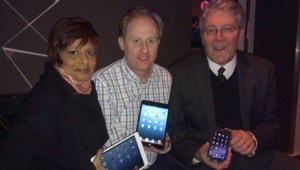 Now clearly not everyone is going to get these speeds – and I have only managed to go over 50MB/s this one time.
In normal use around London, the iPad on 4G is experiencing 9 – 20 MB/s download. The great thing about 4G is the upload speeds. Instead of the 1MB type upload speeds of a loaded 3G network, the 4G EE network regularly mirrors the download speed – so 18MB/s download also provides 18MB/s upload.
This is really handy for uploading files and photos, as well as synchronising with blogs etc.
The EE network came into its own recently when I was out blogging at my local Starbucks. Not wanting to blow my 8GB data allowance all at once, I was connected to the free WiFi network (operated by BT), and as is usual once you get a coffee shop full of people on Facebook, the network crawled to a complete stop and was unusable.
I simply switched on the mobile data option on the iPad and the iPad roared back into life.
Indeed when I need that burst of speed at a coffee shop to download a newspaper or magazine (I now read EVERYTHING on the iPad), I flick over to the EE 4G network and it is done in an instant.
If you are looking to upgrade to a new iPad (or get your first one), then I can personally recommend getting it on EE, and experience the iPad on steroids as it performs best on 4G LTE.