I was delighted to appear on the Tech for Non-Techies podcast with Sophia Matveeva.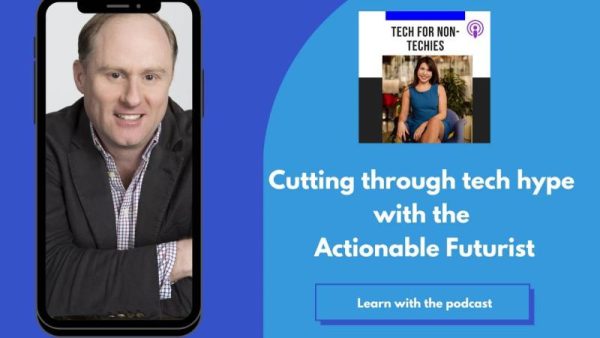 Sophia said of the episode:
Conferences are full of speakers saying that the latest tech will change the world, but they often leave people even more confused. Knowing about trends is irrelevant if you don't know what to do about them. This is especially true if you've ever attended a panel on the metaverse.
We're told it will change the world and anybody who questions the vision, is a luddite boomer.
I love people with a big vision, but unless that vision is backed by pragmatism, it's science fiction, not business.
This is why for the latest Tech for Non-Techies podcast I spoke to Andrew Grill, the Actionable Futurist.
"To understand the technology, you need to play with it," Andrew says. Using new software or devices at home makes you comfortable with trying new technologies.
You don't need to refit your home with IoT devices. How about just trying out TikTok? You'll see what an engaging algorithm really feels like and you'll have a laugh.
Listen to the episode above.