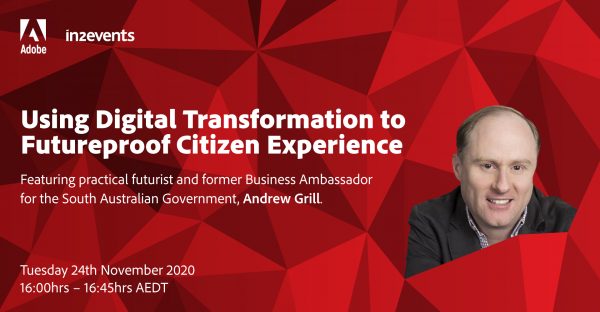 Tuesday 24th November 2020
16:00hrs – 16:45hrs AEDT
Adobe are pleased to present this special webinar with featured speaker, Andrew Grill, Actionable Futurist and former Business Ambassador for the South Australian Government.
Join us as we discover how digital transformation can futureproof your organisation and enhance operational performance
Register today to hear directly from world-renowned business figure, Andrew Grill. As a futurist expert, experienced CEO and digital advocate, Andrew is highly respected in the world of futurism, finance and business. Andrew will give us his unique perspective into the pivotal role data plays in digital transformation and explain how using data-driven decisions can help improve internal workflows and positively impact citizen experience, through connected journeys.
Not only has Andrew been Global Managing Partner for IBM, but over a career spanning 30+ years, he's worked for and with, many of the world's leading companies and has ensured the longevity of some of the biggest names on the market. In his position as South Australian Business Ambassador for the South Australian Government, he also secured the future of the state's travel, business and tourism. As a Actionable Futurist, Andrew will draw on his experience and invaluable knowledge to share actionable insights into how data can be used to optimise your organisation's operations and personalise citizen engagements.
Join Adobe, together with Andrew Grill, for this unique opportunity to explore the crucial – current and future – role of data intelligence in government.