When:
27 January 2022 @ 12:30 – 13:30
Europe/London Timezone
2022-01-27T12:30:00+00:00
2022-01-27T13:30:00+00:00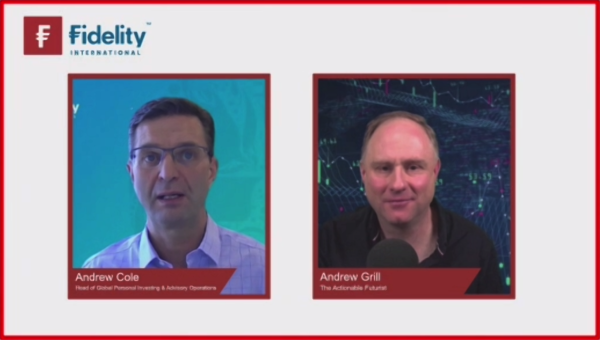 Andrew addressed a global audience of over 400 Fidelity International staff and looked at how to prepare for the seismic shifts that could take place over the next 5-20 years as technologies such as AI and blockchain open up radically new possibilities and disrupt the finance sector.
Talk title: The challenges facing our sector and how to stay ahead in a digital-first world.
Synopsis
The Actionable Futurist™, Andrew Grill will look at the challenges facing the sector and you can stay ahead in a digital-first world. He will be providing actionable advice on how to become more digitally curious, how to collaborate more effectively and how to best leverage the "two tribes" in our organisation.
In addition, he will look at some short-term predictions around new technologies such as Crypto Payments, Non-Fungible Tokens (NFTs), AI and digital identity and look at the disruptive forces in the market and what they mean for Fidelity Investments Limited.
There were so many questions during the event Andrew recorded answers to overflow questions after the event concluded.