Following on from my earlier post on the new My Location feature on Google Mobile Maps, and after having used the application for the last month, I thought I'd provide an update on usability in a range of real-world situations.
While I have been testing it everywhere I have travelled in December (London, Bristol, Athens, Madrid), the real test came on both Christmas Eve and Boxing day when I needed to use it for real!
Christmas Eve: Mission – find some DVDs for our 18-month-old to keep here interested over the Christmas break. I headed into London's Oxford Street, where there are all sorts of shops. I knew the HMV store near Bond Street Tube station had some children's DVDs but when I arrived there I found the range to be quite small. I knew there was another HMV further up Oxford street that would have a better range, but I urgently needed to find out how far up Oxford street it was. If any of you have been into Oxford Street on a normal day, then you will know how busy it is, as it is a major shopping area of London. Multiply the number of people there on an average day by 3 or 5 times and you will get a picture of the chaos that is London on Christmas Eve. As such, I had no time to waste.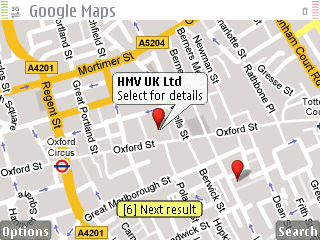 I put the My Location feature of Google Maps to the test. Opening the application, I pressed the "0" key which immediately plotted me on a map in Oxford Street. I clicked open the search option and entered HMV into the search box. The first result was the store I was in (not surprising), but what was useful is that I did not have to enter my location or a postcode – which would waste time and I also do not know the exact postcode for this area of London. I hit the "6" key and was given the next HMV store – it showed me the location on the map as well as the address – 150 Oxford Street. I headed off to the store and you will be happy to know that our daughter is now the proud owner of Postman Pat, Pingu, Brum and Pocoyo DVDs. Google Mobile Maps with My Location saved the day.
The second real use of the application was on Boxing day, when Madeleine decided to bring up some food due to a cold on the carpet. If anyone has tried to source carpet cleaning liquid on Boxing Day at 4:30pm in London when the normal supermarkets are closed will realise what a challenge this is. After finding the nearest larger Tesco shop that was likely to carry carpet cleaner was closed, I decided to head into Oxford Street again. The first shop I tried suggested Marks and Spencer at Marble Arch – a 10 minute walk from where I was through more crowds of people out shopping in the Boxing day sales. I put GMM to use by again calling up the application, and having it find my current location, then searching for Marks and Spencer.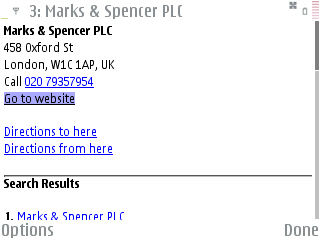 The first result was the nearest (Marble Arch) and pressing another key brought up their phone number and with one more click I was connected to the store….who told me they were closed. Still useful as the use of GMM here allowed me to search elsewhere rather than wasting valuable time going to the M&S store and finding them closed. I could have searched for M&S Marble Arch but one thing I have found from using GMM solidly for the last month is that the results that appear, while being location enabled are also the most relevant.
If you use the google mobile search page to look for Marks and Spencer Marble Arch you get some information, but no easy way to grab and dial the phone number easily – and lots of other unrelated information. Each time I have used GMM in a mobile context, the search results have been entirely relevant due to the coupling with my location, and the results were clean – with just what I wanted and nothing more – let's hope the results stay this way and don't become polluted with irrelevant information.
Summary:
1. The My Location feature is an excellent feature, and proves that mobile location can be provided without having to rely on GPS. In both scenarios above, I needed to know the answer to my location search query before I left the store and headed out into the cold. I did not want to have to wait outside for a location fix – I need the information where I was at the time – inside.
2. The accuracy available from the My Location application was adequate for the local searches I was doing – and it provided a significant benefit as I did not need to enter a place name or postcode to initiate the search. Having the starting point provided by the application is a significant benefit and will ensure consumers start using the application as it gives a reasonable starting point
3. The mobile search queries returned by the application are very relevant and clean – free of clutter and information not required during a fast mobile search
The GMM application has become one of my most often used applications and has been particularly useful during the holiday season. More updates as I keep using the application.