UPDATE October 2012: I have been a very happy Clicky Pro paying customer for the last 3 years. Cannot praise this service highly enough.
I came across Clicky from one of my twitter contacts, so I thought I'd take a closer look.
Wow! This is the analytics tool I have been waiting for. For 2 years I had to suffer with only matrixstats from my web host, then signed up for mybloglog (now defunct) which gave a better view of what is going on with stats about my visitors and clicked links etc. Sitemeter was disappointing – but Clicky seems to fit the bill perfectly.
I was up and running quickly by adding the tracking code to the footer of my blog templates, and within a couple of minutes the traffic started flowing into the account. Below is a quick screenshot of just one of the pages available.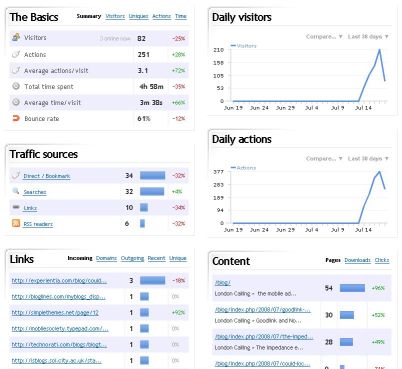 Not only does clicky have a clean and informative dashboard, it gives you a live view of what's happening with a "spy" view, as well as where people came from, what they clicked, RSS and email stats – in all it gives you a total view of what's going on. There are some nice touches such as an iGoogle plugin so you can get the summary view on your home page, and you can also slice and dice and export the data.
Other cool features include a Google map of visitors and a summary of the current status for that day/week/month etc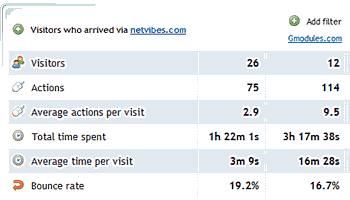 Their pricing is reasonable – a free version comes with ads, and the pro versions are between $60 and $100 per year. I think that when you compare the features from other services such as mybloglog, Google analytics, and site meter, you will settle on this one.
I have been a Clicky Pro customer for the last 3 years and cannot be happier.
If you are reading this and wondering why you would want to know all of this information – think again! As a blogger, you need to know what the hot topics are, and where your visitors are coming from. As a corporate website owner you also need to know where people are clicking, as well as where they are coming from to ensure that your web advertising and search engine optimisation is working well.
Clicky gives you a way to look at all of this in real time and make changes if you need to. What is amazing for me is to have a window into what people are searching for – and finding this blog in the process.
Why not sign up for a free trial via http://lc.tl/clicky