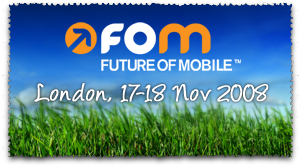 I'm delighted to be involved with this year's Future of Mobile conference to be held in London on November 17-18th 2009 at the Kensington Town Hall.
I'll be in good company as I will be joined by fellow bloggers James Whatley, Vero Pepperell, Helen Keegan, Jemima Kiss and Ewan MacLeod. Also on the platform are Rudy de Waele, Tomi Ahonen, Doug Richard from Trutap and Simon Rockman from Sony Ericsson. The conference is being organsied by Carsonified who have also been responsible for the hugely successful Future of Web Apps, Future of Web Design and Fuel conferences.
Book your tickets now because there is a very attractive early bird offer of £100 discount on conference and conference/workshop tickets. And student tickets are just £45 for bona fide full-time students.
More information is available at the conference website http://future-of-mobile.com and I look forward to seeing you there.