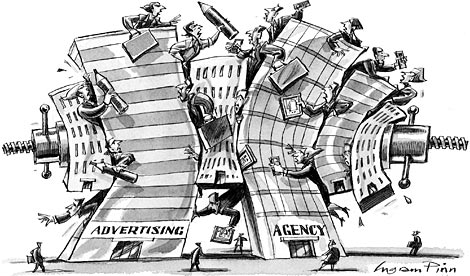 I caught an interesting article in today's Financial Times by John Gapper titled "Madison Avenue feels the squeeze".
In the article, John looks at how the battle between the "suits" (account execs) and the creatives (the ones who craft the campaigns) seems to be back on.
Quoting from the article, John says
"Four decades later, the face-off between the people in suits – this time in media planning agencies – and the creatives is back again. Now, it is fuelled by recession rather than growth, and the internet rather than television – and the Madison Avenue creatives have a tougher fight."
Margins are being squeezed everywhere, and the advertising industry (especially TV) seems to be feeling the pinch the most. With the emergence of these new digital channels and social networks, ad agencies need to adapt – and fast.
John writes
"The industry is unaccustomed to being squeezed. Revenues have grown in high single digits for most of the past two decades, which has financed big salaries and bonuses, increased employment and the fragmentation of agencies into media buyers, digital boutiques, research shops and so on.
The biggest expansion was when the media buying departments of ad agencies, the second-class citizens to the copywriting and visual creatives, split off into separate agencies in the 1990s. They offered big companies a more precise, professional (and expensive) service in placing ads across different media.
Now, it is in question again. The proliferation of agencies not only feels to many advertisers like a luxury in straitened times, but is also ill-fitted to the new digital world.
…..
– the fact that media and creative agencies are jostling up against each other to devise and plan digital campaigns on the unfamiliar territory of the internet, blogs, Facebook, Twitter and mobile phones.
In the analogue world, everyone's job was fairly clear. The creatives devised catchy slogans and wacky visuals, and media agencies plotted how to place them before as many of the right consumers as possible."
If ever we needed a wake-up call that the role of the traditional agencies, and advertising in this new "always connected" world is about to change forever, John's article is a good starting point – well worth a read.