On Saturday 4th July 2009, I visited the Wimbledon Championships as a guest of IBM, in relation to a book I am writing on the business use of twitter (more on this in an upcoming post).
IBM, in conjunction with their advertising Agency Ogilvy has served up three brilliant applications for the 2009 Wimbledon Championships. You can read more about the "Say Hello to a smarter Wimbledon" campaign, and my summary of each of them is below.
iPhone Wimbledon application
This is a must have application (just search for Wimbledon in the app store) for anyone following Wimbledon this year. It has live scores (updated every 30 seconds), match results, news, match draws, video and the match schedule.
I expect that the huge success of this application will mean that events such as the US Open and Australian Open (which IBM also support) will want to use a similar application to keep fans updated.
Indeed I understand that an Australian Open representative visited the IBM teams while at Wimbledon to see what they had created for the Championships.
If you can't watch the final today live on the BBC – this is the next best thing!
IBM Seer Java application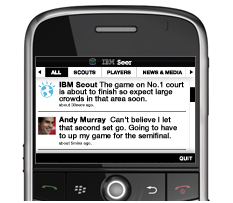 For those without an iPhone, IBM developed a Java application that aggregates news and twitter feeds relevant to the Championships in the one application. If you are in the UK, Text 'smart' to 60999 to download the app. You can also go to m.wimbledon.org on your mobile if you just want the latest results.
Wimbledon is one of the first mainstream sporting events to really start to leverage the power of twitter. Both The All England Lawn Tennis and Croquet Club (AELTC) – the hosts of the game and IBM are running twitter feeds relevant to the event.
There is the main @Wimbledon feed as well as @centre_court (both run by the AELTC) providing live updates on what is happening on Centre Court, or in and around Wimbledon.
To really leverage the power of twitter, IBM went one further and engaged some of their own tennis mad Interns as Scouts who literally walk around the entire Wimbledon site reporting on things that matter to those at the Championships via twitter. You can see what sort of things they report on by following @IBMScout.
Over the 2 weeks of the championships, these Scouts have not only had their picture taken with the likes of Ben Stiller, but also notched up more than 3000 status updates!
They hashtag each tweet with a point of interest – as per the examples below
#Court2 Gangways 7-9 are best if you want group seating. 300+ seats now available for men's invitation.
#court14 People leaving now after Serena finishes her practice on court 15. For live tennis check out courts 3 and 4.
#Court2 150+ seats still available on No.2 court, game still in 1st set. Seating is abundant at the back entrances (gangways 3-6)
The tags are then used in the IBM Seer Android application, explained below.
IBM Seer Android application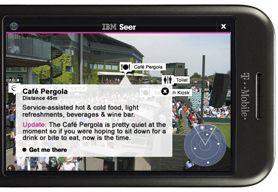 This is probably the most leading edge application I have seen come out of a large corporate like IBM for a long time – and in speaking to the IBM team, a refreshing risk that they took in pitching this to the AELTC.
In a nutshell, the IBM Seer android application utilises the GPS in the Android phone as well as the compass to not only understand where you are on the Wimbledon site, but also which way you are pointing. This type of emerging technology is called Augmented Reality (AR) and has started to appear with other applications such as Wikitude from Mobilizy and Layar from SPRXmobile. Nick from Ogilvy told me that the Wikitude application was the inspiration for the Seer Android app.
In the weeks leading up to the tournament, the IBM and Ogilvy teams tagged points of interest around the grounds (transport, gates, toilets, food outlets etc) so that when you look through the camera, these points of interest are superimposed on the picture (see the screenshot above).
The tweets mentioned above from the Scouts that are hashtagged are fed into the Android application – so live updates on what is happening in each area is available when you point the phone camera at an area of interest. This is a really amazing use of twitter – both for those with and without the AR application.
You can also watch a video of the application in action – and even Nick from Ogilvy (trying) to explain how it works to Aussie tennis legend, Pat Cash. As well, you can see some photos on Flickr from the IBM Scouts over the last few weeks, or photos I took during my visit to the site.
A HUGE thank you to Louise Fletcher (@louisef1) who was running the event PR for IBM, as well as Nick Bennett from Ogilvy (@nickbtweets) who was from the team behind the implementation of these apps from the creative side, and the "Scout leader" onsite to make sure everything went to plan. Ogilvy run IBM's advertising in the UK and also do some amazing work with other large clients.
Thanks also to Alan Flack who is the IBM Client Executive for the AELTC account, and who was brave enough to pitch these ideas to his client. In return, the AELTC were open enough to new ideas to green light these initiatives.
Alan provided me with a ticket to watch the Men's Doubles final at Centre Court after we met (something totally unexpected, but a very welcome gesture – thank you).
I also understand that Brendon Riley, the Chief Executive, IBM UK and Ireland (and a fellow Australian) provided high praise for all 3 applications when he hosted clients on the Saturday at the event.
I would certainly rate these initiatives as a huge success, and something that we can expect to see a lot more of not just at other tennis championships, but other large events. Now that the iPhone 3GS and Nokia N97, and E72 come with a compass, we can expect to see many more sporting event visitors using these applications to greatly enhance their experience.
Augmented Reality, coupled with live updates from roving "Scouts" via twitter is a perfect solution – well done IBM, Ogilvy and Wimbledon for having the vision to showcase the use of this mash up at such a public event as the Wimbledon Championships.
See all of the mobile services available for Wimbledon at the official website.
If you are using twitter in a business context as IBM are here, I would love to hear from you for my book on the business use of Twitter as I am looking for really interesting case studies. Please contact me via the contact page.