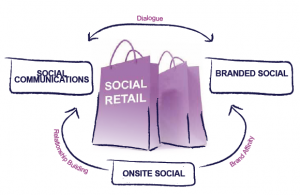 I have just been sent this really insightful report on "social shopping" from UK based agency Immediate Future.
Summary: Consumers want incentives for review and recommendation. Credibility of reviews is unaffected when reviewers are rewarded.
New research* published today by social media agency, immediate future, demonstrates a desire from consumers to be more involved in the review of products and services provided by online retailers.
Over 60 per cent of the 2000 UK online shoppers who took part in the research, said they would be more likely to shop at a site that rewarded them for writing reviews or recommending products to friends.
The credibility of consumer reviews or recommendations that are incentivised by the retailer are largely unaffected.  32 per cent of consumers think better of a brand or product that has been recommended – this falls to just 30 per cent when the reviewer has been rewarded.
But rewards are not just about money. Only 11 per cent just want transactional rewards. Over 82 per cent want both transactional and experiential rewards such as access to new products before other people, private shopping days or getting involved in product development.
Adam Lewis, director at immediate future, says: "The social shopper is not just a buyer: they are also an expert, critique, influencer and potential advocate.  There is an untapped consumer appetite to be advocates for a product or service – rewarding them for the time and effort in doing so is not seen as a negative. Rewards are not just about money. Retailers need to be looking at other ways to build relationships and make their social shoppers feel special."
And with 53 per cent reviewing a product or service online in the last month, it is clear that online influencers and the sharing of consumer opinion is becoming part of a new route to purchase; we're now experiencing the rise of the 'social shopper'.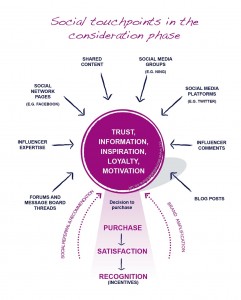 (image from Immediate Future report – click to enlarge)
When asked about actions taken after making purchases online, 37 per cent said they had reviewed or talked about their last purchase online.  This was a mere 1 per cent less than those who had discussed it face to face offline (38 per cent).
Adam Lewis added: "The social shopper is sharing their experiences with their network online as much as they are offline network. This reinforces the need for retailers to be involved in the conversation."
Other key findings from the report include:
46 per cent of online shoppers do not have a clear idea what they want to purchase when they go online
A high demand for customer service by customer (50%) and private shopping days (60%)
Consumer comments and reviews on forums are used in product research (11%) slightly more than professional reviews in newspapers (9%)
The findings are being presented by immediate future at the Internet Retailing Conference on 12th October.  However, you can find the full report by visiting http://lc.tl/socialshopping or contacting Adam Lewis at immediate future on 0845 408 2031 or email adam.lewis@immediatefuture.co.uk
Research carried out by immediate future, surveying a nationally representative online audience of 2,000 people with GWI Research, to find out how consumers are changing their behaviour online and how social media is transforming the retail landscape