A trick I have been using with my large corporate clients who are nervous about unleashing their teams onto twitter for customer service is to setup a safe training environment using Yammer .
Yammer is essentially a corporate version of twitter, which is completely private as you need to log in with your corporate email address to gain access and see the tweets.
I have been setting up practice Yammer accounts for customer service teams before they go live on twitter, and feeding them tweets collected via our social monitoring platform.  This way they get to see real tweets, and can take their time to respond, and in some cases this has allowed them to refine their internal response procedures before "go live".
The response has been extremely encouraging, and has been providing the customer service teams with valuable experience and confidence before they go live on twitter.
In some cases, those people asked to also monitor and respond to social media channels have not had much experience with twitter (some do not even have a twitter account – well not before my training sessions anyway – I have a high twitter sign up rate in my sessions as I can be very persuasive!).
Yammer has been around for a while, but unless your company is blessed with a well read IT person, or marketing maven, they may not have introduced you to it you.
In fact in January this year I was at a Cap Gemini conference  in Paris, and instead of having a twitter wall, they had a Yammer wall.  As I was not able to access the CG internal email system, I could only watch but not contribute.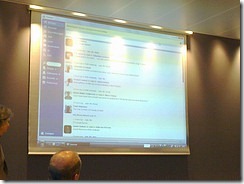 If you would like some ore detail on how I set up my corporate clients on Yammer for twitter practice, feel free to contact me or tweet me @andrewgrill