This post follows on from part 1 where I introduced the concept of short URL services and how some companies and individuals have started to deploy customised URL shorteners.
So now you've made the decision that you want your own short URL service (like the one I use, lc.tl) – what next?
Well first of all you need to secure a domain.
I decided to use lc.tl because
it contains my brand (London Calling)

it is one of the shortest domains you can buy
There are a number of sites you can use to find short URLs, and the one I use is gandi.net
[top tip] When you use their search engine, tick all the region boxes and then when it has run through all of the options, click the "toggle taken domains" to see which ones are left.
Gandi.net are not the only registrar in the game – others you can try include eurodns or domai.nr and these companies offer a wide range of domain extensions.  From my experience if you want a 2 letter domain then your options become pretty limited.
[top tip] Focus on the .tl and .cx domains as a start (this will save you several hours of investigations!)
Once you have the domain registered, you have a couple of choices.
Use a free/hosted service to shorten the links or

Host it yourself.
I chose the second route as I have full control and unlimited domains with my webhost webhostingbuzz.com.

The issue of going with a free service is that it puts you and your brand at risk if the service stops running. The sites below have ceased to exist over the last 12 months or so
tr.im (closed due to costs and abuse) – since reopened
u.nu (closed due to abuse)
idek.net (changed business model)
cli.gs (business was acquired)
If you don't have access to your website (most likely you are a company than a blogger) to host the service yourself then you can use one of a number of services.
Commercial services
budurl.pro (ranges from free – $249/month)
bitly.pro (they have a free version and a $999/month version)
Free/Fremium services
urlshorteningservicefortwitter.com
moourl.com
is.gd
ow.ly (part of the Hootsuite offering)
sn.im (same as snip.url)
urls.im
tiny.cc
goo.gl
tinyurl.com (the original)
Many of the bloggers in my list of short URL users in part 1 are using the free bitly.pro service.  It extends the functionality of the bit.ly service by using your domain instead of theirs BUT you are still forced to use the global bit.ly hashes (the characters that come after bit.ly/).
If you choose to keep the bit.ly generated links then you end up with URL spaghetti like http://bit.ly/cnryPe, or you might even fluke a rude url link like Stephen Fry did some months ago.
[top tip] You can upgrade to the paying version of bitly.pro for a cool $999/month to use your own hashes but trust me – you can get the same for free or low cost with other providers such as budurl.pro (how can they justify such a high cost?)
The self-hosted option also has merits for individuals and brands, because you are not at risk of the service closing down and you can use whatever short URL extension you want.
For example, I promoted part 1 of this article using the link http://lc.tl/url on twitter.
The /url link is something I chose and have full control over as I am using an open-source an excellent open source URL shortener from Ozh Richard (@ozh) called Yourls.
It does just about everything that bit.ly and the $999 version of bit.ly pro does and all it cost me was a domain name and some space on my server.
I have the ability to use the Yourls service via tweetdeck (see settings screenshot below) or chromed bird (twitter client extension for Chrome)
Now with yourls I also have a comprehensive admin page to create, modify and search short links I have created (click to see larger view).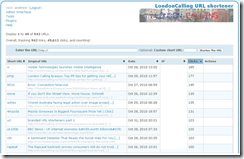 Below are the statistics from one single tweet of the now famous Tippex Youtube video. I tweeted the link http://lc.tl/tippex and you can see the results on http://lc.tl/tippex+ (adding the + to see the stats just like in bit.ly).  You also have the option to look at referring domains/countries etc – just like bit.ly.  Click on the images below for a larger view.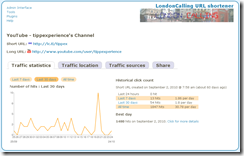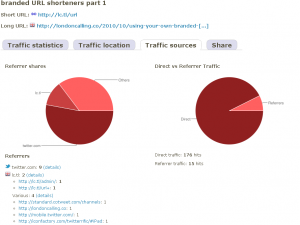 [top tip] Use backtweets.com to see where your unique links are being shared.  I have an email sent to me when any of my links are shared on twitter. Because lc.tl is unique, I know it is one of my links that is being tweeted.
So if you are a brand or a blogger, you can easily set up and maintain your own URL shortener, and retain your branding, while also keeping control of all the links you create.
Follow me on twitter @andrewgrill to see all of the (hopefully) useful links I tweet via http://lc.tl