In this week's Campaign Magazine, there is a good review of the recent Haymarket Brand Media and News International Big Digital Debate – held on 19th November in London.
I can't find the copy online, as it is a "promotion" in the magazine, but one comment by Daren Rubins who is the Managing Director of London Agency PHD is worth repeating.
We've created a new language at PHD called Bonfires and Fireworks – advertising is the firework that attracts a large crowd but it's expensive and dies out quickly. When you think about bonfires, they draw in communities and they gain momentum. The more bonfires of social media the advertiser creates, the less reliant they will be on traditional advertising and fireworks". Daren Rubins, Managing Director of London Agency PHD.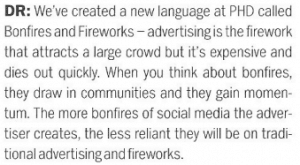 I just thought this paragraph worth sharing for a number of reasons – firstly it is spot on, and secondly it shows that a traditional agency like PHD really gets where social media is heading and the impact it can have on traditional advertising.
Hats off to Daren for this.