I saw this sign affixed to a traffic light in Gloucester Road in West London this morning. What a great use of SMS to report traffic light faults. Click the photo below for a better view.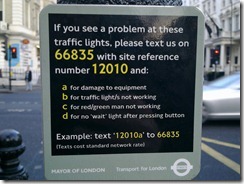 The great thing is that the instructions are clear, and it provides enough detail to allow the right level of response.
For some years now light poles in London have had numbers and codes to call if they were not working. In my experience, these numbers and codes never worked. Perhaps this method of reporting all sorts of faults will take off.
After all the general public is now so used to sending codes and letters to SMS short codes thanks to shows like X-Factor.
Update 2020: These signs are no longer on the light poles anywhere in London.