So many things in the early part of January are pointing to 2011 being a serious year for social media, and possibly the year when it comes of age and is plumbed into everything in a powerful and meaningful way.
From where I sit at Visible Technologies, where I run international sales (everything outside of the US so it's a big patch), I am uniquely positioned to see the changes first hand.
I am fortunate to be in and out of leading agencies in London on a daily basis as we look at helping them win new business in the social space, as well as supporting their clients with social media insight and intelligence.
I am also fortunate that we have a number of household brands as direct clients across multiple industries such as retail, banking, finance, telecommunications, transport, and logistics.
It is very grounding to see these well established brands both embrace as well as challenge the norms and expectations of social media.
What also amazes me is that some of the advice I have provided to these brands is actually being adopted!
Linking social media profiles to CRM systems
One idea I have been championing in each and every client meeting and speaking engagement is to offer customers the ability to attach their social media profile (Facebook name, Twitter handle, Flickr page etc) to their personal customer record.
At first pass – why would consumers do this?
This idea is of course completely voluntary, and what I stress to clients is that it would only work if they explain clearly WHAT they are collecting the profile information for and the BENEFITS of doing so.
Social media monitoring is becoming more and more widespread, and I am asked in every meeting and pitch if I can identify the influencers of a brand.  Even when we provide these lists, I wonder what happens next.
With the linking of a social media handle to a customer record, then for example @ruskin147 who is actually Rory Cellan-Jones, the BBC's technology correspondent (and a thoroughly nice chap), might have a more pleasing experience if it was easier to spot him as a high value customer with a problem – and thus provide a better level of customer care.
I use Rory's @ruskin147 handle as it is a good example of how a Twitter name cannot always be easily linked to an actual person.   My @andrewgrill handle is really me, and it would be pretty easy to link my CRM record to my Twitter name.
I am sure that if Rory tweeted a problem, his service provider would not only be able to quickly action the issue, but also (with his permission if he has provided his @ruskin147 handle) be able to quickly access his account history.
For many clients, their CRM system was never designed to accept social media contact information, and I am sure CRM managers reading this will be shortly asking their CRM provider how much this "enhancement" might cost them.
The leader in online CRM systems, Salesforce.com has twitter as one of the permanent optional fields in their new contact form (shown below), so they are very much social ready.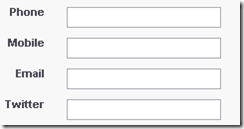 Even my school's old scholars association (former students) is using a CRM system that provides the ability to enter your social media credentials.  Click the picture below for a larger view of the modify details screen.
I predict that by the end of this year, most CRM vendors will offer a social field.  The challenge will be how companies collect and use this information in a meaningful and sensitive way.
One of my blue-chip clients has been investigating how they might ask customers for their social network information (perhaps providing a benefit as a reward), and not only store this information in their CRM (which will need changing), but also how they might responsibly use the social network > CRM connection in an ethical and mutually beneficial way.
It is examples like this that point to the fact that social media is not only here to stay, but large companies are actively investigating how they adopt and embed social media into every customer interaction.
There are a number of other observations from agencies and clients that point to 2011 being a very social led year, and I will leave these for future posts.