In late February 2011, a major Vodafone outage in the UK caused by a break-in by thieves at their Basingstoke facility highlighted how social media can and should be used in a crisis.
I am a loyal Vodafone customer (@vodafoneUK would probably call me an honorary Ambassador), so while the outage was annoying, I am not looking to leave the network.
However, if you scan Twitter for mentions of Vodafone over the last 24 hours, you will see many people discussing the response to the outage, and asking for refunds.
For those outside the UK, a quick recap:
Early in the hours of Monday 28th February, one of Vodafone's major switching centres was targeted by thieves who broke into the site and stole some key equipment. Some reports suggested it may have been one of their Home Location Registers (HLR) which is a pretty central part of any mobile network.
As a result, hundreds of thousands of customers, including many in London were left with little or intermittent service for voice, text and mobile internet on the Vodafone network.
Along with many others, I was affected for most of Monday. The first I noticed it was when my phone toggled from no signal to full signal then back again without warning, and I had no emails on my handset even though I had received several overnight on my laptop.
My Wife also said that when our Daughter's school tried to call her late in the afternoon, they were not presented with Voicemail and her phone just rang out.
Initially, I thought it was just my Nokia E72 playing up, but when arrived at work one of my colleagues (also on Vodafone) had the same issue, and had initially just blamed his iPhone.
In fact, the first I heard of the problem was when I saw that the number 1 story on the BBC website was about the break-in and the subsequent impact. Having seen this, I went to the vodafone.co.uk website to look for an update. There I was presented with the normal website with no mention of the major outage that was crippling their network.
Amazingly, the twitter logo at the bottom of their home page is just used for sharing content via twitter. In fact nowhere on the front page is it easy to see they have a twitter profile which would have been handy to provide those who were not aware of the @vodafoneuk account an easy way to stay updated on the situation.
Lessons learned from Eurostar
If companies have learned anything from the Eurostar debacle of December 2009, it is that when a crisis strikes, you need to be nimble and responsive via multiple channels, not just the ones you think savvy social media types may be monitoring such as twitter.
It looks like the whole incident was pretty serious, and certainly not something you can plan for. Indeed the deliberate theft of a key piece of network infrastructure while it is still connected and working is not only pretty brazen, it is catastrophic for a live mobile network with 19 million customers.
An authentic looking Vodafone incident report featured on ZDNet even suggested that Vodafone had scrambled their "war room" to deal with the incident.
Clearly, as part of the checklist they did not think to update (or were not able to due to the outage) the company's front door to say there had been an incident and customers were being impacted.
Instead, they paid the twitter tax – having to reply to hundreds of twitter users individually because their internal processes did not allow a customer wide message to be posted on the front page of their website.
Some suggested that a text message should have been sent to all customers, but with a network wide outage, they may never have been received and just put further load on the crippled network.
Lessons learned from the Gatwick airport closure December 2010
Vodafone should have instead taken a leaf out of the Gatwick Airport crisis manual enacted during the December 2010 snow conditions that closed the airport for two days, and placed a prominent message on the FRONT PAGE of their website, directing customers to their twitter page for frequent updates.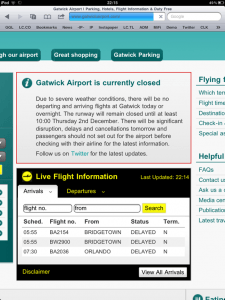 Key learnings for Vodafone
Note to the Vodafone team (and all other service providers from any industry) – the ability to rapidly update your home page and direct customers to a dedicated twitter channel should be built into the crisis management plan for next time. It means that only a small amount of code needs to be deployed in the "doomsday" scenario, then the twitter platform takes over and allows real time updates without having to impact the main website any further.
The other issue I have with how Vodafone handled the outage is that when people complained about the lack of information and updates, the twitter team simply said that they had been updating customers – but via their eForum and social media channels, but not where the majority of their customers expected them to provide updates – their website.
Vodafone and other operators spend millions of pounds a year promoting their brand and their websites, yet when they need to get a message out, they favoured other brands and channels rather than their own. In my opinion, this was a major error. They should have pushed people from their brand to dynamic channels such as twitter and not relied on customers discovering these channels for themselves.
The fact that their eForum, Facebook and Twitter channels are not normally promoted from their main website further proves that customers will not naturally check these sites when they have no idea of how to find them in a hurry. For the forum team reading this (hi guys), try this for yourself. Get your Mum, Dad or a friend to go from the front page of your website to the eforum message about the outage – it impossible to find quickly.
The key learning here is that when there is system wide outage, you need to use ALL channels at your disposal, and not expect customers to guess or find the correct links by accident.
When something big happens, they will seek immediate clarification from the source – the FRONT PAGE of your website. You need to be prepared to update this property then update other channels.
Twitter can become a useful backchannel during a crisis
Indeed, twitter would have been an excellent proxy for the Vodafone team repairing the fault to quickly gauge how widespread the issue was, and if it had been rectified.
By promoting the twitter address on the front page, more people could have been updated in real time, as well as sending back reports on what services were impacted and where.
Hats off to the @vodafoneuk team for working hard to update those who knew about you. Your crisis team could have better served you by promoting your existence early and prominently in the website (and why don't they put you on the front page like British Airways and John Lewis do) permanently?
Let's hope this incident allows the crisis team to be better prepared for a rapid response via twitter next time.
Footnote: I really like what Vodafone Australia has done with their home page (see below – click for larger version). Here they have their social channels front and centre on the home page (well bottom left actually). You can't miss how to contact them and get updates. It also shows they get social media. In my mind this is best practice. Nice to see my old home town (Sydney) leading the way!