As recent visitors to the Royal wedding would have noticed, there is vast amount of outdoor advertising in London (especially at the 270 odd underground stations), and as my twitter followers know, I often snap interesting examples to share during my travels around the capital.
There are some stand-out (and one not so good) examples of outdoor advertising I have spied lately, and thought it worth a blog post.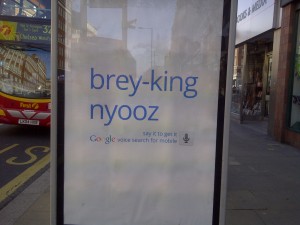 The stand-out example for me is the current Google voice search campaign.
Why I really like these ads is they do really make you think.
When you see the phonetic text such as brey-king-nyooz, your mind does have to process these for a few seconds before you of course come up with "breaking news".
I haven't come across a poster in recent times that has actually make me think!  They also have a simple call to action, and where they are placed above ground (no phone reception in the tubes), hopefully people reach for their phone to grab the app and try voice search which is fantastic when you are on the move and short of hands to type).
Other great examples of this campaign are listed below from a range of underground stations.  Click each image for a larger view.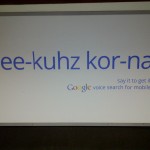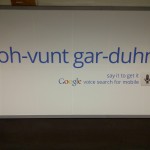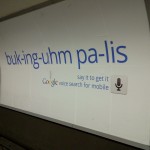 Below is an attempt at leveraging outdoor + social + mobile from Bacardi.  Pity you can't easily read the Facebook page URL because it is too small, and also cut up into thin strips because of the slats in the sign. Click the picture for a larger view.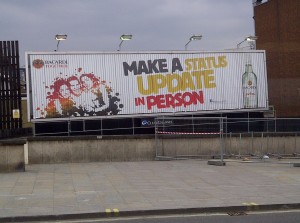 Not so great outdoor advertising
One not so great example of outdoor I spied recently was displayed on the huge digital screen at Westfield London.
Here what must have been a house ad "filler" from Ocean outdoor was promoting Socialyse.  Who are they you ask?  Well the only call to action (click the picture for a better view) was the website address of their twitter feed.

So I visited the twitter page listed on the ad (it only shows for 5 seconds so you have to be quick), clicked on their website, sent them a tweet, received a reply, but still felt empty.
I wonder how many of the 1000's of people who passed this ad while at Westfield London did as much as I did – probably none of them.
To save you some time, my research uncovered that Socialyse is the social media arm of Havas Media and to be honest, I expected more from them. Why not be up front in the ad from the start rather than make me jump hoops to qualify me?
How about some huge copy that just says "MADE YOU LOOK" – for more on how we can help your next social media campaign, tweet us at @socialyse.
Not a great use of this free house ad from Ocean in my view.
This brings me to my final point
outdoor + social + mobile = win
In my view, there is no better combination that an outdoor ad that makes you stop and think, pull out your mobile and either respond directly or tell your social networks about what you saw.  Outdoor advertising has a real role to play in today's changing landscape, especially is leveraged with mobile and social at the same time.
Outdoor companies such as Ocean Outdoor, JCDecaux, and Clear Channel need to continue to innovate beyond just digital signage to leverage the power of social + mobile.
This works both ways, as it requires creatives, copyrighters and planners to build impactful campaigns that really work on social and mobile, as well as the media owners to provide sites that lend themselves to a mobile & social call to action.