I am very fortunate to be in the position that I will get to see two Olympic games in my lifetime, having lived in Sydney during the 2000 games, and now living with my family in London.
At the 2000 games, I was a Volunteer, and saw the opening ceremony twice!  Once during the dress rehearsal with Volunteers filling the stadium, and at the actual opening ceremony on Friday 15th September 2000.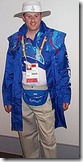 Back in Sydney we had a similar ticket ballot process, and you had to bid for tickets with everyone else.  At the time I assumed that I would not get tickets so I did not participate in the ballot.
My experience from the Sydney 2000 Games is likely to ring true for the London 2012 games, so I thought I would post my experiences here.
Firstly, the Olympic behaviour in each host city is pretty predictable.  When I was working alongside the Olympic marketing team at Telstra, I was provided an introduction to the Bellsouth Olympic marketing team from the previous 1996 games.
On a trip to Atlanta in 1998, I spoke to one of the people in charge of BellSouth's Olympic involvement.  What struck me was his quote
"every Organising Committee tries to scare the local city population with stories about traffic congestion. It works perfectly every time because everyone stays home or goes away and there are no traffic problems at the games".
What rang true was that in Athens in 1996, and Sydney in 2000, the traffic on the streets was significantly reduced as the "warnings" were heeded.
In a similar vein, in Sydney, there were grumbles about ticket allocations in the ballot, but my personal experience was that there are lots of tickets about, you just need to know of be friends with a games sponsor.
During the 2000 games, I held a fairly senior role at Telstra, the country's largest fixed and mobile telecommunications provider – and also a major national sponsor of the games (as BT is here in London).
This meant that I was offered many tickets that no-one else wanted over the course of the 2 week event.
As such I saw Athletics, Hockey, Rowing, Gymnastics as well as the Opening and Closing Ceremonies (these 2 events I paid for myself).
In fact I probably secured the very last Opening Ceremony ticket in Australia, as the day before the ceremony, and email came around at Telstra to say that Visa had some unallocated single tickets (at $1,500 each) and I managed to grab one.
The ticket was actually delivered to my office at 1pm on the 15th September, so I was cutting it pretty fine!
My point is that more tickets will find their way into the hands of fans though direct sponsor invitations, as well as returns from sponsors who can't give away all of their allocation.
Some may argue that unless you know a sponsor you will have little chance of a ticket outside the ballot process, but I expect several major sponsors to distribute tickets they have been allocated to community groups as well.
Become a Volunteer

The best way to savour the Olympics in London will be as a Volunteer.  In Sydney, I was a Volunteer at the Beach Volleyball site, and had a great experience.
The Volunteer parade through the streets of Sydney post-games in front of 100,000 will stick with me forever.
You can Volunteer for the London 2012 Olympics at http://www.london2012.com/volunteer
See all of my pictures from the Sydney 2000 Olympic at http://lc.tl/sydney2000