This afternoon I had a look at my recent  followers on Twitter in an idle moment (someone once said there are two types of twitter users, those who check their follower count and those that are lying)…
I noticed that my newest follower was the famous Landmark Hotel in London (@Landmark_London).
Intrigued as to why they were following me, I looked at their stream to see that they are now offering a room upgrade when you check in via Foursquare.
Starwood Hotels Group were one of the first hotel chains to really adopt Foursquare as a loyalty device, and I have earned extra Starwood preferred points simply by checking into the Westin Market Street (physically as well as via Foursquare) on a previous visit to San Francisco.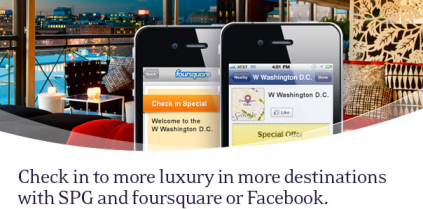 As I have blogged previously in my post why hospitality and social media are such a good fit, hotels are a perfect fit for social loyalty programs, especially so as the notion of "checking in" fits perfectly with a hotel.
Good to see the Landmark getting social!