I was fortunate enough to attend the Pivot Conference in New York last week.
The event was organised by Brian Solis, and had some excellent speakers.
Much of the first morning was spent talking about "millennials" and how to market to them. The conference venue was the Crowne Plaza right on Times Square, and perhaps a coincidence, one block away was this Time Magazine billboard.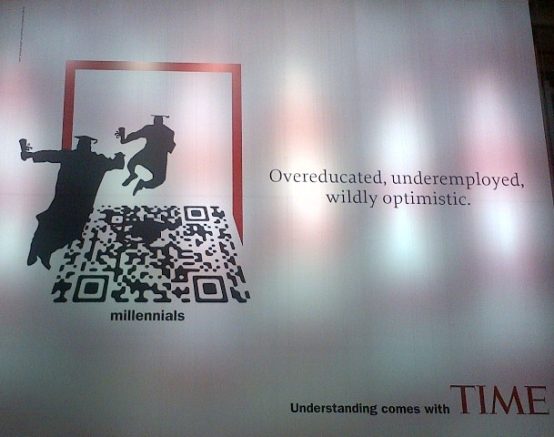 The caption says
overeducated, underemployed, wildly optimistic
Seeing it reminded me of a May 1999 full-page advertisement in the Australian Financial Review (think WSJ/Financial Times) promoting their sister magazine the "Business Review Weekly" (BRW).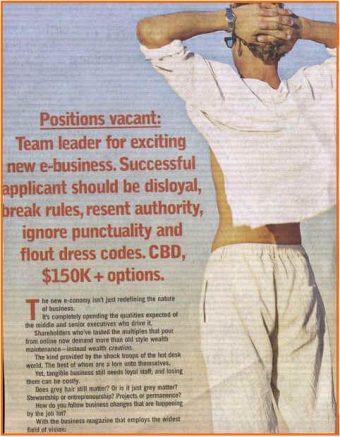 This ad was run in a similar vein. The main copy reads
Positions Vacant: Team leader for exciting new e-Business. Successful applicant should be disloyal, break rules, reset authority, and flout dress codes. CBD, $150K+ options
The ad appeared at the height of the dot-com boom in 1999 and was designed to promote the BRW as a place to read all about the new economy.
Back then I was earning $A150K and I was working in the dot-com area of Telstra called Telstra.com – exciting times!
In 2001 I went on to become CEO of PropertyLook, an online commercial property portal, right after the dot-com crash.
The copy below the orange text reads
The new e-conomy isn't just redefining the future of business. It's completely upending the qualities expected of the middle and senior executives who drive it.
Shareholders who've tasted the multiples that pour from online now demand more than old style wealth maintenance – instead wealth creation.
The kind provided by the shock troops of the hot desk world. The best of whom are a lore unto themselves.
Yet, tangible businesses still needs loyal staff, and losing them can be costly.
Does grey hair still matter? Or is it just grey matter?
Stewardship or entrepreneurship? Project or permanence?
How do you follow business changes that are happening by the job lot?
With the business magazine that employs the widest field of vision.
So while the Time ad at the top is much cleaner and exists in 2011, it is interesting to see how little really has changed since 1999.