Recently I was asked by Stephanie Clifford from the New York Times to contribute my thoughts to an article on QR codes, and their use in a retail environment.
The resulting article "Scan-to-Buy Gets a Trial on Television" appears at lc.tl/nytqr
As a well known QR sceptic, I thought it worthwhile publishing the questions Stephanie put to me as well as my full answers, some of which made it to the article.
NYT: advertisers and media companies seem wild about QR codes; what's your sense of how promising they are, and how well consumers understand them?
Andrew Grill: I think there continues to be a lot of hype around QR codes, and I am seeing many billboards, newspaper ads and magazines carrying QR codes in US and UK markets with little or no explanation of what these "squiggly squares" are and why consumers should use them.
My personal view is that with any new technology is introduced, if there are barriers placed in the way of activating the technology and consuming or redeeming content, then consumer adoption will drop of rapidly.
At the moment, QR codes are not the easiest to use. In a test today, I tried to scan three separate QR codes printed the London evening standard, a commuter newspaper. In each case, the codes failed to scan on a latest model Blackberry.
I persevered for several minutes to try and get them to scan. Other consumers may not have been prepared to try so hard and perhaps would not try again. In this case (and with QR codes I scanned in national US newspapers last week) the codes seem to have been printed too small to be easily scanned by a mobile phone. Perhaps the ad agency sold in the idea to the client, however no-one actually tested they would work properly?
My measure of new technology/platform success is how often I overhear them being discussed in my local Starbucks. In 2007 it was all about WiFi, in 2009 it was Facebook and in 2010 Twitter. To date, I have not overheard a QR code discussion, and while not a scientific study, shows that consumers don't see the technology as useful just yet.
NYT: what do the companies using QR codes need to do to increase response/use of them by consumers?
Andrew Grill: I think that consumer adoption of QR codes will really take off when phone manufacturers embed QR readers into existing smartphone cameras, so that scanning a QR code is a simple one –click process when the camera is on, just as sending an SMS is simple and integrated into all phones. At present, few handsets have a QR code reader pre-installed, meaning a consumer needs to source and download a reader for themselves.
I believe the issue with QR codes today is twofold:
Firstly, I am not convinced that the average user knows what to do when presented with the "squiggly square" on an ad. Few, if any QR codes come with a simple "how to" guide. There are multiple steps between seeing and recognising a QR code, finding a suitable reader on an app store or website, installing it then redeeming a code. Advertisers seem to assume all consumers will know how to read QR codes, and therefore no explanation is required.
Secondly, assuming that a consumer can readily scan a QR code, often the target website linked to the code is not mobile optimised, so the overall experience is not ideal. If a user scans a QR code on a mobile phone, the target website needs to be mobile-optimised as a minimum, and for best practice, be an integrated mobile experience.
In one famous QR code campaign for a well-known Italian handbag manufacturer featured as a full page ad in a major UK newspaper in 2009, a QR code with no explanation appeared along with a beautiful picture of the product. When scanned, the website it presented was a non-mobile optimised version in Italian – completely missing the value of a QR code call to action.
Another example of a QR code campaign that had not been properly thought out was a well-known supermarket in the UK that showed a QR code during the last two seconds of a 30 second TV ad. Even when paused on YouTube, the QR code will not scan.
Just as SMS "just works" and is pre-installed into pretty much every phone on the planet, for QR codes to be successful, handset manufacturers need to build a QR reader into the camera application, so a simple menu item "scan barcode" allows any consumer to use the camera application to scan a barcode without having to download and install a thing.
Until this happens, QR code marketers must continue to actively educate consumers about what a QR code is, and how to source, download, install and scan a barcode. A simple Google search for QR code readers brings up so many options, and my fear is that it is simply too complicated for consumers to bother with.
QR code marketers also need to respect the fact that QR codes are most likely being read on a mobile phone, while mobile so the target websites need to be not only mobile optimised, but present and deliver mobile friendly content.
NYT: HSN, the home-shopping network here in the States, will be using QR codes on-screen that people can scan to go directly to the product page for the item being sold at the moment. HSN hosts will be explaining what QR codes are and how to use them during the broadcasts. What's your take on this? Is it a smart way to use QR codes or do you think it will confuse consumers?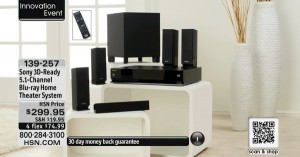 Andrew Grill: Education of consumers around QR codes is critical for success, and any company that invests in this will help with the overall adoption of new technologies such as QR codes.
The HSN are to be applauded for investing time and effort into educating viewers on the what/how/why of QR codes, but I fear that we are perhaps looking for a solution to a problem that may not exist.
A simple short URL like http://lc.tl/qr as used effectively on channels such as Twitter may be more effective as a mobile call to action for an in-broadcast advertisement. I can imagine that HSN will have to spend a considerable amount of time to educate viewers on how to find and download a QR code reader for their phone, then get lots of frenzied calls from viewers aiming their phone at the HSN screen from their armchair and not being able to scan the code. It may have been easier to simply publish a mobile friendly short-URL to achieve the same aim.
Until technologies such as QR code readers are completely integrated into a mobile phone's hardware, then my view is that adoption will be slow, and alternative technologies such as near field communication (NFC) which will double as smart-cash and transport smartcards may overtake them because they have a far greater utility than just a lazy way of typing a URL into a mobile browser.

Footnote: the QR supporters who know me well have all been in touch today after seeing the NYT article.  I have promised to become the word's biggest QR advocate when phone manufacturers embed QR scanning software in the phone's firmware so you can take a picture, or scan a barcode – nothing to download!