Like many calling readers, part of my role involves business development where you are trying to drum up new business from people you have not yet met.
Watch me talk about the art of the eTap below, or read on…
I remember my first "sales" call back in 2001 when I had just taken the position of CEO of PropertyLook, an online commercial property marketplace.
Having held technical, marketing and client side business development roles until this point, I had never needed to make a "sales call" to someone I had never met – the cold call.
Needless to say, my 1st cold call was not so bad, so I followed it with another and thousands of calls later, I find myself wanting to help others with their business development activities using social media.
One of the softest ways to introduce yourself to a new prospect is via what I am coining the "eTap", where you sensitively use LinkedIn and Twitter to provide a very gentle "tap on the shoulder" to say hello.
This should lead to a warmer reception when you do email or call them, as they will know that you exist, and have some expectation of a contact request in the not-too-distant future.
Here is how it works:
Make sure you are on LinkedIn and have a premium (paid) account.
Ensure your LinkedIn privacy settings are set to "your name and headline" on the "select what others see when you've viewed their profile" option
Look up your target on LinkedIn
The very action of doing this will be an eTap as they will be able to see you looked at their profile by using the "who viewed my profile" feature that can be accessed via http://lc.tl/vmp when logged in (this requires them to have a premium paid account to access the WVMP feature).
If they have a twitter account linked to their profile, click on the follow button to follow them on Twitter directly from this page.

These simple actions will tell your intended target that you HAVE done your homework, and you are interested in their background and what they have to say on Twitter.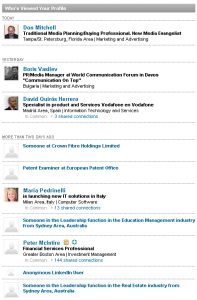 I use this technique myself, as I know it works in reverse – I am always interested in doing a spot of "reverse stalking" and seeing who it is that has chosen to look at my LinkedIn profile and do some research on me.
The image on the left (click for larger view) is the "who's viewed my profile" list and shows who has recently viewed my profile.
As you can see from the larger view, there is a mix of full names, job titles and companies along with "someone" at company X as well as "anonymous Linkedin user".
Unless you change your privacy settings (see screenshots below – click for full size image) under the link "select what others see when you've viewed their profile" to "your name and headline", then all of that eTappping will be in vain as the person you want to tap on the shoulder with a virtual "hello" will not know it was you.
[top tip] make sure your privacy settings for your who viewed my profile are set to open – I much prefer knowing who has looked at me rather than guess and look at the company name.
Having your full name appear on my who viewed list tells me you are open and honest from the start and want to build a relationship with me rather than just sell me stuff.
The Twitter follow also forms part of the eTap strategy as there are 2 types of twitter users:
Those who check their new follower numbers on a regular basis
those who are lying (ie we all check our twitter followers from time to time).
I check these new followers to see what content I am tweeting and blogging is resonating. It is not just some popularity contest. I want new followers because what I am saying is useful, and therefore the more I know about what content drives new followers, I can ensure my content (tweets, photos, blog posts etc) is welcomed by my followers.
If I am contacted by someone who is already following me on Twitter (or has just started as part of an eTap), then I am generally more receptive because I can see that they have taken some time to see what makes me tick, so I allocate them more time our of the professional courtesy and respect they have shown me in doing their research.
Have you tried eTapping people before you meet? What has been your experience?
You can find me on LinkedIn at linkedin.com/in/andrewgrill.