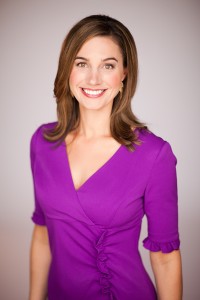 Jenni Hogan is a fellow South Australian who now works on TV at Seattle's KIRO7.
I first came across Jenni when reading the iPad version of my old hometown newspaper, the Advertiser where they had written a feature about her.
Within moments I was connected to her via twitter @jennihogan and have stayed in touch since.
Using the power of Twitter, she reached out to me hoping to get in contact with Kred Chief Evangelist, Porter Gale.  Only when I replied and saw her new found Kred addition did she realise that Kred was the "little project" I have been working on.
She has made a name for herself not just for being a great Traffic Anchor on Seattle's KIRO7 morning news show, she has also harnessed the power of social media.
Jenni says that while her dream job hasn't been created yet, if it was, she'd be mixing TV with interacting with people on social media in real time: TV meets social.
This Thursday night (10pm ET, 5am GMT Friday, 4pm Friday Sydney, 3:30pm Adelaide time) March 22nd she gets to create that dream job, for a pilot show and then hopefully something more.
UPDATE: You can see a replay of the live show from 22nd March below.
Wherever you are, you can participate in the show by tweeting using the hashtag #KIROConnect or commenting on the program's Facebook page.
The show will begin online 30 minutes earlier with a livestream conversation, and then move to primetime TV at 10:30pm pacific time, Thursday 22nd March.
The audience will be encouraged to interact online throughout the primetime segment by following hashtag #KIROConnect on Twitter, helping to create what the next generation of combined television and social media will provide.
The show will also highlight:
• Top Apps that can help save time and money
• Ways to use technology to improve your life
• Local celebrities and how they interact with their online communities
• The faces behind the online voices of your favorite brands.
Featured guests:

Josie Bissett, starred on Melrose Place
Ben Huh, CEO of Cheezburger
Blake Cahill, President of Banyan Branch (I worked with Blake at Visible Technologies)
Porter Gale, Lead Advisor of Kred
James Sun CEO of Pirq and former contestant on The Apprentice
Jean-Sun Hannah Ahn, Miss Seattle 2012.
I'll be watching Jenni, and glad that Porter Gale will be representing us, and look out for a special guest appearance from Kred – just make sure you use the hashtag #KiroConnect and mention @JenniHogan or someone else in your tweet!