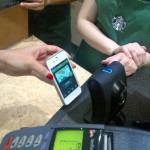 Recently you may have started to see people like me using their phones to pay for coffee at Starbucks outlets in the UK.
This is a very simple procedure using the iPhone app or Android app.
UPDATE JULY 2012: The Android Starbucks app is now available in the UK. For Blackberry users you will need to follow my steps below.
If however you have a Blackberry, you can only look on in frustration if you are a plastic Starbucks card holder knowing that it will take 4-5 scans of your (outdated) magnetic strip technology to pay for your coffee.
Fear no more! I have found a foolproof way of getting the Starbucks mobile card experience onto your non-iPhone.
4 simple steps (assuming you have an iPad, iPhone or Android)
Grab the Starbucks iPhone app on your iPad from the app store (or from Google Play if you also have an Android).
Enter your Starbucks card number into the app so that it allows you to display the card's barcode (it will look like this)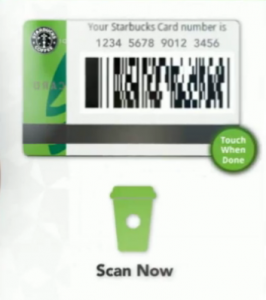 3. Take a screenshot of the barcode (hold bottom button and power button at same time on the iPad)
Email yourself the screenshot, trim to just show the barcode image and show the barcode as a picture using the picture viewer to the scanner in the store – this works!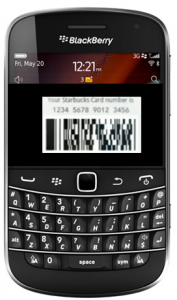 I've had multiple Baristas ask how I got the Starbucks card Blackberry app – now you know!