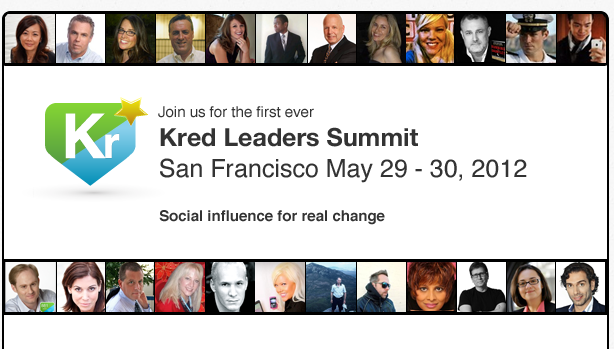 Today 23 Kred Leaders from across the globe are assembling at Kred Headquarters in San Francisco to discuss influence for social good – and we want you to be part of the conversation.
The Kred Leaders are at Kred for a Summit on the power of social influence, the forces that fueled sensations like #Kony2012 and #OWS, and how people can use networks to achieve professional and social goals. Today we have amazing people here like
#YouMatter creator Angela Maiers, InvisiblePeople.tv founder Mark Horvath, global business celebrity Jeffrey Hayzlett, HARO founder <a href="/wp-content/uploads/Peter" Shankman" target="_blank">Peter Shankman, Intel social media strategist Ekaterina Walter, country music journalist Jessica Northey, the lovely Lori Moreno, travel expert Ann Tran, and many more.
You can be part of the Kred Leaders Summit:
Ask the Leaders questions on Twitter

Follow the hashtag #KredCrew to participate in the Kred Leaders Summit, starting at 11am Pacific / 2pm Eastern on Tuesday, May 29 and Wednesday, May 30. The Kred Leaders will share tips for activating social audiences, tell their personal success stories, and provide insights on how you can use your influence for good.

Ask questions by tweeting with the hashtag #KredCrew and check the Kred Leaders Summit Leaderboard throughout the event to see your influence.
Join the Kred Leaders Wednesday night Tweet-Up

Be part of our live Tweet-Up from San Francisco's Rex Hotel on May 30th. At 5pm PT / 8pm ET, local and worldwide influencers will gather for a conversation about using social media to promote change. To participate, tweet with the hashtag #KredCrew. Grab your free ticket to the tweet-up at http://lc.tl/tweetup
Chat with Kred Leaders in real time

What topics you would like the Kred Leaders to address? Tell us on Twitter or Facebook or by sending us an email.
Kind Regards,
Andrew Grill
CEO, Kred