Arriving back in London from a business trip to New York last week, I was expecting a moderate wait in the immigration queue, after all it was 7:45am on a Saturday and this was Terminal 3 not Terminal 5.
Seeing 10 – 12 rows of people in the queue (I estimated there were well over 500 people in the queue ahead of me) I knew I was in for a long wait. It took well over an hour to get through immigration.
This doesn't have to be the case though.
Until February this year, I would sail through immigration, even though I am an Australian citizen resident in the UK, I was able to use the "IRIS" retinal scan system as a registered traveller.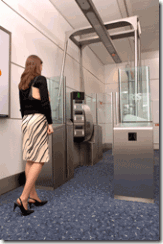 I would submit my eyes to a quick scan (I got used to standing in the exact position for a perfect scan) and in 15 seconds I would be through immigration!
When I tried to renew my registration in February I was told that "IRIS is being phased out" and no new registrations were being taken.
Apparently this was being done in favour of the ePassport scanning stations that are only available for EU or UK passport holders.
In my multiple trips over the last few years through Heathrow, I have never actually seen ANYONE using the 3 dedicated ePassport machines at most checkpoints.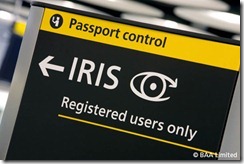 This was the case also on Saturday – no-one using the ePassport stations, and no-one using the IRIS machines (I can't anymore)
Why the IRIS system was so good was that anyone resident in the UK (and that includes those expats like me that travel internationally a lot) could sign up and it took much of the frequent traveller traffic off the normal immigration desks.
I have no idea why the ePassport system has not taken off for EU and UK nationals, perhaps brits just really do like queuing!
The UK Border Agency CAN solve immigration queues with technology.
While I can concede that the IRIS system may have had its day (with 2 machines at each UK border, invariably over the last 5 years when I have used the system one or both would be out of order for no reason), I see no reason why the ePassport system could not be extended to those expats like me that have an ePassport.
In the US, which arguably has even tighter immigration checks at the border, their global entry program is available to all permanent US residents, and also includeds a background check and interview, as per the IRIS program.
Heathrow, with the closure of IRIS has excluded non UK/EU residents from using technology to clear immigration by restricting the ePassport gates to UK/EU passport holders only.
This would be a quick win for the UK Border Agency – divert the frequent travellers with rights to stay in the UK to the ePassport machines and check the biometrics on their passport and speed them on their way – freeing up the non-EU desks with less traffic.
Will Heathrow cope with the Olympic arrival traffic?
Having lived through an Olympics in Sydney, my observation is that London is just not prepared.
In Sydney for the 2000 Olympics SOCOG (the Sydney equivalent of LOCOG) tested EVERYTHING!
They even staged a mock avalanche of incoming travellers at the Airport – signing up volunteers with luggage to come to Sydney International airport months before the games, load testing with Olympic sized arrivals and seeing what systems and processes could be optimised.
Sydney has only one international terminal, and all arrival gates lead to just one arrivals hall that has only about 20 immigration desks.
Sydney coped with this influx – because they had tested the procedures and optimised.
The main stadium at Olympic Park was not only finished 12 months before the games, they held huge test events there (such as the National Rugby League Grand Final in 1999 that I attended) to see what they could improve.
As a result, Sydney will always be seen by the IOC (unofficially of course) as the "benchmark games" where everything went to plan.
I've seem a decided lack of test events and "load testing" by LOCOG and we're under 100 days from the opening ceremony.
If the chaos at Heathrow did not serve as a real "load test", then nothing will.
The solution for reducing immigration queues at Heathrow?
I believe that only by getting smart and using technology such as IRIS (extending existing registrations NOW to ease traffic on existing non-EU queues) AND implementing ePassport access for non-EU travellers will Heathrow be able to cope with Olympic sized traveller influxes in July.
Have you used IRIS in the past at Heathrow and like me are angry that they have scrapped the system – have your say in the comments below.