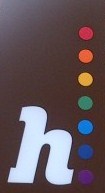 I've been a member of @thehospitalclub in London for nearly 4 years now and enjoyed every minute.
When new CEO, Sue Walter came on board late last year, we had a meeting of the minds and agreed to collaborate around social media.
As such, I have become an advisor to the club on all things social to drive awareness and engagement of the club in the wider community.
With my work at Kred, we are finely positioned to help support the Hospital Club community via social media.
Lately, we have been developing in-house influencer leaderboards for companies such as Ogilvy, and Capgemini to name just a few.
Read how Leo Ryan from Ogilvy has been using their leaderboard to coach staff on social media influence very successfully.
What we've developed for the club is a live h.club hotlist, which showcases their Kred scores, showing influence and outreach of Hospital Club members.
More on what the Kred scores mean can be found on the Kred Rules page.
UPDATED June 18th: The list of members on the hotlist can be seen below, or you can head to the live list at http://lc.tl/hclub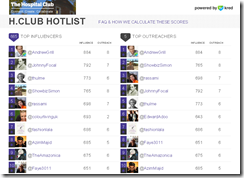 How do you get on the list?
Simple, if you are a Hospital Club Member, just tweet @thehospitalclub and say please add me to the #hclub hotlist.
TIP: If you click here, we'll do it for you! The team at the club will check you are a member, then have you added to the list.
What next?
Simply improve your Kred ranking position to win a club prize. Anna Chapman-Andrews who is the Club's Head of Marketing is also offering the member who mentions @thehospitalclub the most over the month a free burger!
Using Kred to help grow the club community
The real aim of the leaderboard though is to highlight members of the club who are active on social media as a way of bringing the club community together.
If you click on the @names on the leaderboard, you will access that person's Kred profile.
Click on the Kred badge and expand to see the full Kredentials pop-up. Then you can hit "see what we have in common" to see how you might be able to connect with others in the club.  Click on the image above for a larger view.
This is an example of how a real community such as the Hospital Club members can be brought together using Kred.
Enjoy the leaderboard and I promise I am not eligible for a prize or a burger!