I tuned into the BBC sport website on Wednesday during one of the preliminary Olympic soccer matches to take a peek at their new interactive player that will have up to 24 live streams online during the London 2012 Olympics, and not owning an Internet enabled TV was blown away with what you can do.
There is obviously the ability to watch live, catch up, replay on demand and they even mark interesting points on the video which you can go back to.
The extras section allows you to look up any team on screen – looks like a huge undertaking for up to 24 sports broadcast live simultaneously.
Unfortunately the site is only for UK residents that have a TV licence, though it does make paying the annual licence charge of £145.50 actually worthwhile just for this!
When the Olympics is under way, only 2 BBC channels (BBC1 and BBC 3) will have live coverage, so it is more likely I will be watching the Olympics online using my laptop rather than TV.
Click the image for a full size version.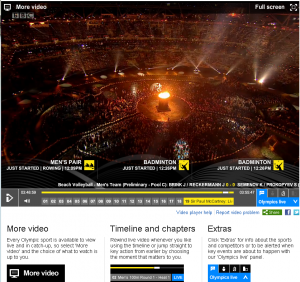 During the day, you have the chance to watch on of 24 different channels, and also catch up with events just completed.
It really is the future of interactive TV! If you're in the UK head over to http://lc.tl/ocr to replay the whole Opening Ceremony and instantly jump between the scenes .
Looks like Adobe's Primetime platform is powering the digital streams.