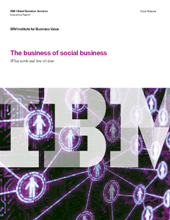 I came cross a great piece of work from the IBM Institute for Business Value (IBV) that looks at the social business of the future.
The paper is titled "The business of social business – What works and how it's done".
You can download the paper (registration required) from the IBM Social Business site.
It is a solid piece of work, and for those of you that are time challenged, I have provided a brief summary below.
The report was produced in collaboration with the Economist Intelligence Unit, and I can remember being involved in the survey behind this report some months ago.
Quoting from the report (emphasis is mine)
The question surrounding social media today is not whether you are doing it, but whether you are doing enough. Getting your 100,000th "Like" on Facebook, or having your latest pearl of wisdom retweeted 200 times an hour is all well and good, but are these activities driving revenue, attracting talent and bridging the collaboration gaps in your organization?
Many of you that follow me know that I am trying to move my clients away from likes and follower numbers as metrics, towards something more meaningful.
This is the first step of moving from social media (monitoring, engaging) towards a social business framework where social media is integrated into the entire business.
The IBM report highlights the traits of companies that are making the move – namely:
"…. companies at the forefront are doing more than developing a presence on major platforms. They are taking their external social tools and embedding them into core business processes and capabilities. They are using social approaches not only to communicate better with their customers, but also to share knowledge with their suppliers, business partners and, perhaps most important, their employees. In short, they are rapidly progressing to a larger, more substantive transformation in how they work called social business.
Could have not said it better myself.
Some topline results from the study were interesting
46 percent of the companies surveyed increased their investments in social business in 2012
62 percent indicated they were going to increase their expenditures in the next three years
A majority of companies are applying social business within
marketing – 67%
public relations – 54%
Areas expected to grow most rapidly in social business adoption
customer service – from 38 % of companies today to 54% in the next 2 years
sales – from 46% to 60%
Nearly 75% of survey respondent reported they were unprepared for the required cultural changes that social business brings.
More worrying is the fact that nearly 66% of respondents were not sure they sufficiently understood the impact social business would have on their organizations over the next three years.
The three major areas where organisations can apply social business is well depicted in one of the diagrams from the report (source: IBM – click for a larger view).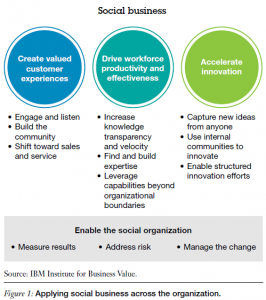 In terms of the existing social media functions such as listening and engaging, the survey found:
60% use social environments to answer customer inquiries
78%are planning to do so in the next two years
55% are taking this even further, soliciting customer reviews and opinions
79% plan to follow suit within the next two years
Figure 2 in the report provides an excellent summary of how social is currently being used for engagement (click for larger view).
In terms of how companies are using social business today and their plans for the next 2 years, the most growth seems to be coming from sales and product support areas.
One key piece of advice in the report (something I echo) is that as the scope of activity broadens, so too does the number of touch points with the organization, necessitating a consistent set of customer experiences.
Social business practices will need to be more closely embedded into traditional marketing and sales processes, with loosely coupled marketing and advertising campaigns giving way to tightly linked lead generation and sales efforts.
Providing customer support through social channels will become a more prominent focus, with organizations incorporating social platforms into their larger customer relationship management strategies.
CRM is key to social business adoption and value creation
In my view, one of the quick wins for a social business is to ensure their CRM system is integrated into what is being captured from social networks.
The final part of the report looks at the way value can be created through customer experiences (click for a larger view), namely in the areas of
Engaging with individuals and groups
Building communities
Shifting towards sales and service
The report also highlighted what I have been saying for a while, namely we will see a marked rise over the next two years of social approaches that go beyond organizational boundaries.
Leading social businesses will improve coordination with customers, vendors and partners, as well as leverage external talent, using techniques such as crowdsourcing, where companies work with suppliers to coordinate on topics as diverse as generating sales leads and improving production processes.
If like me you are convinced that social business is the next phase for what we currently call social media, then you need to grab the report and see where your business currently sits in terms of social business readiness.