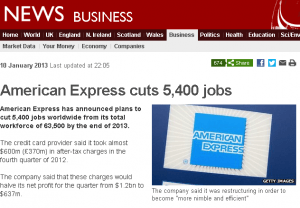 I read an interesting article on the BBC website this morning that says American Express is to cut 5,400 jobs – mainly in their travel business.
The line in the article that stuck out for me (emphasis mine)was:
It said the majority of the job losses would be in its travel business, which is being "fundamentally reinvented as a result of the digital revolution".
American Express said it was having to adapt parts of the business as more customers make payments online or via mobile
This shows that digital disruption is starting to bite. Traditional businesses such as AMEX need to reinvent their processes in the age of digital, mobile and social.
What AMEX and others will need to do is adapt quickly and become a social business, and for many companies, this hard reality is now starting to bite.
Companies such as Square who play firmly in the mobile payments space and get social are well positioned to thrive here.
What is your company doing NOW to become a social business?