Following on from my earlier post about the Capgemini report: The digital advantage: How digital leaders outperform their peers, in this follow-up post I am going to look at their analysis of which industries have the most digital maturity.
As a quick recap, in case you have not read my earlier post, the four types of digital maturity as defined by the report are:
Beginners: These firms do very little with advanced digital capabilities, but may be using more traditional systems such as ERP or e-commerce. They probably have a Twitter account and a Facebook page but not much in the way of real social business. They are also unlikely to have a digital-savvy leadership team in place so are not planning any type of transformation management.
Fashionistas: Companies in this quadrant have implemented or experimented with many "sexy" digital applications – some creating value and others not. They most likely have not implemented these digital initiatives with a real strategy linking them all together because most are experiments or pilots – or perhaps are just "ticking the boxes" that they are "doing social media"
Conservatives: Digital conservatives favour prudence over innovation. While they understand the need for a strong digital vision and governance and culture to match, they are not there yet. While they spend wisely, they are missing the advantages that can be realised from digital.
Digerati: These companies are our digital stars! They understand not only how to drive value with digital transformation, they combine this with the right leadership, governance and culture to accelerate their work with digital technologies. In short, these companies have a strong digital culture and actually drive real revenue.
These 4 types are shown below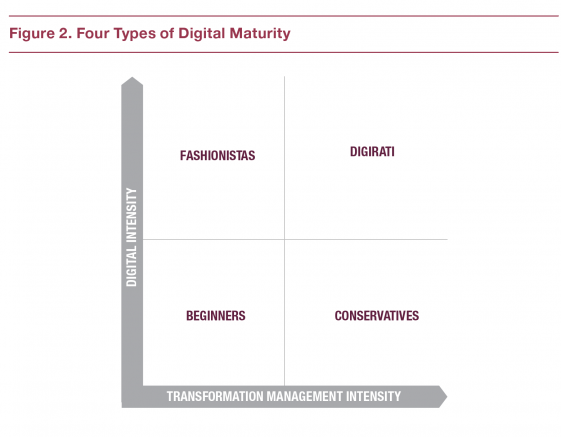 Digital maturity varies widely, and when reviewed by industry, some interesting patterns emerge.
The Capgemini report looked at the industries in which the 391 companies operated, and analysed where each industry sits.
In the graph below, each dot represents the average maturity of industries for which there were 20 or more data points.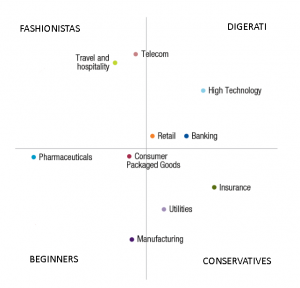 Not surprisingly, the digerati are represented by high technology, and we can also see that retail and to some extent banking just sneak into the digerati category, due to their investment in online and mobile banking coupled with the back-office processes to support this.
Telecom and travel are in the fashionista space due to the fact that while they have launched important technology-based features, on average their transformation management intensity is not at the digerati level.
Insurance and utilities are branded as digital conservatives – making some investment in new technologies, but they are held back from transformation by regulatory issues or organisational legacies.
Bringing up the rear in the beginners' space are manufacturers and CPG (FMCG) firms.
The report highlighted that Pharmaceutical firms, while most are beginners, some are starting to invest but will have problems in transitioning their organisational silos – as a result of multiple mergers and decentralization.
The report provides some interesting analysis for each of the industries – summarised below.
Beginners
Pharmaceuticals – Executives see a threat in digital transformation but less opportunity than other industries do, perhaps because of regulation.
CPG/FMGC – Digital opens new possibilities for firms to engage directly with customers. 24% of firms surveyed stand out as Digirati, while others lag far behind. Generally, less-mature CPG firms can improve through stronger visions, greater digital investments and more robust transformation management.
Manufacturing – Traditionally slow to react to digital,8 Manufacturing is on the cusp of emerging from Beginner status. Efforts in digital remain focused on operational efficiencies and worker enablement.
Digital Conservatives
Insurance – High expectations for digital and strong vision and governance suggest that the insurers should be leading the digital revolution. Yet, this is not the case for most firms. Generally, scores for engaging customers through social media and mobile are lower than average, suggesting that the combination of strong digital governance capabilities, regulatory worries, and a risk-averse culture could be an innovation-stifler.
Utilities – For the Conservative Utilities industry, efficiency is the name of the game in digital transformation. Constant pressure to reduce costs and the advent of smart metering create digital opportunities in customer experience, worker enablement, analytics and process improvement.
Fashionistas
Telecoms – Facing ever-increasing levels of connectivity and data consumption, Telecom firms have been quick to respond. Of the organizations in our study, 78% are high on digital intensity (Digirati or Fashionistas) and Beginners are almost non-existent. To complement their digital strengths, Telecom firms can focus on stronger digital leadership to integrate and align initiatives across silos.
Travel and hospitality – Since the advent of the web, digital has turned the industry upside down. The industry has responded, with 81% of firms in the Digirati or Fashionista quadrants and no Beginners. Opportunities exist to improve worker enablement in many companies. To make the jump into Digirati territory, Fashionistas will need to build levels of excellence in transformation management to match their high digital intensity, including a transformational vision for the future.
Digirati
Banking – Digital is revolutionizing the relationship between customers and retail banks, who have responded with strong capabilities in customer service, analytics and even social media. Banks have an opportunity to parlay these successes into new innovations in mobile or social customer engagement and internal knowledge sharing. In addition, opportunities exist to integrate initiatives and processes across corporate silos.
Retail – A decade-long history with digital disruption has seasoned retailers and produced a number of Digirati (26% of firms surveyed). Retailers are generally confident in the potential for social and mobile, as well as their digital skillset. Moving forward, firms may want to focus on cross-channel consistency and worker enablement while building analytics capabilities.
High-Tech – For High-tech, digital is close to home. Firms generally enjoy well-developed capabilities and high digital maturity. They are also – not surprisingly – enthusiastic about digital's potential. This momentum may create further opportunities in mobile and embedded devices.
Can you afford to delay a move into digital?
The report asks the question "do we have time to wait?". I would argue that no industry, regardless of size, regulation or other factors can delay even discussing what the digital shift means for them.
As most of the industries would be well represented by large national and international trade bodies and industry associations perhaps they should start to provide additional value to their member firms and facilitate workshops and discussions about digital readiness.
The Capgemini report stresses that every industry, regardless of how digitally mature, has examples of Digirati – our digital champions.
In other words, every industry – from manufacturing to high technology has firms that have already begun to gain the benefits of digital transformation.
This should be a call to action for executives in every firm. It takes several years to build maturity, especially in the transformation management intensity dimension.
If your industry is in the digital beginners' category, then you should expect that your industry is several years from gaining the digital maturity that Digirati companies already possess.
Why not start now and as Burberry did in 2006 soon after Angela Ahrendts joined as CEO where she launched a significant transformation program covering multiple business areas, from customer experience to operational excellence, largely driven by digital technologies.
According to Angela, "Digital has been a catalyst for everything in the company and, when we got everyone on board with this concept, they were clamouring to become even more connected." While this transformation is now bearing fruit, Ahrendts already has one eye on the future possibilities:
"Consumer data will be the biggest differentiator in the next two to three years. Whoever unlocks the reams of data and uses it strategically will win."
Do you want to be the Burberry of your industry? Start your digital discussions now.
In my next post, I will look at the part of the report that looks at building digital maturity and the concept of a "Digital DNA".
I hope you are enjoying my review of this report – it has been a real eye-opener, and one of my most-read and tweeted posts.[/vc_column_text][/vc_column][/vc_row]