I received this email today (as did other fellow bloggers) from a mobile ad company.
Click on the graphic to read in full (I have changed the name of the company to xxxxxx) and hidden the sender's name.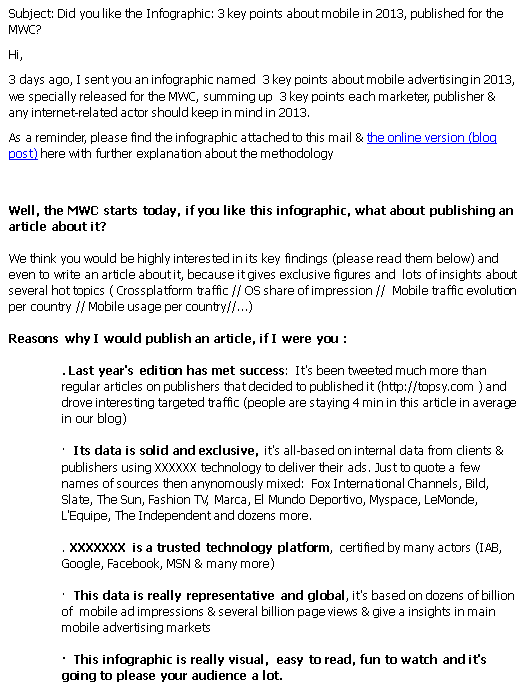 The phrases that ensured I would not post this were (in no particular order)
Hi,
(I have a name)
Well, the MWC starts today, if you like this infographic, what about publishing an article about it?
They missed the phrase "dude" as in what about publishing it dude?
Reasons why I would publish an article, if I were you :
Really….
and finally
This infographic is really visual, easy to read, fun to watch and it's going to please your audience a lot.
I think as editor I'll decide if my audience is going to be "pleased" by this.
Tips for PRs
If the content of your release is relevant and interesting, I'll consider publishing it.
Also please send me a release in blog ready format – ie NOT a 10MB PDF that I then have to manipulate.
Photos and videos are fine also – just make them easy to embed.
And finally, read my blog for 5 minutes before you email me. Address me by name and mention a post you've read and why it was of interest – that will ensure I promote your company.
In this case, I decided to blog it – but for all the wrong reasons.