Recently I have been speaking with University and College students about influence, social media, social business and how to get hired using social.
In each case I have been extremely humbled that they would want to have me into their class to present either in person, or via Skype.
My recent string of lectures started in New York, when I met Lindsey Fair and her 3rd year marketing students from St. Lawrence College, Ontario at the Pivot conference in New York in October 2012.
I blogged last October about meeting these socially savvy students, and in particular Sabrina Eshoo who made a very convincing pitch to the organisers to be allowed to attend at a discount. Below is a snap of the team in New York.
After I met with Lindsay and the class, I offered to run a session on Skype – which they took me up on and had me answer questions about influence and social media in general.
In February 2012, my friend and former client Raja Halabi (@rajahalabi) who has just completed a Sloan MSc in Leadership and Strategy at the London Business School introduced me to Sir Andrew Likierman, Dean of LBS. He in turn introduced me to Naufel Vilcassim, Professor of Marketing, who then arranged for me to present a guest lecture in the Advanced Marketing class run by Professor Nirmalya Kumar (@ProfKumar).
In parallel, the LBS Marketing Club asked me to present on social business as well, along with some tips on finding a job via social media.
You can see my presentations to the LBS students on my LBS lectures page (where I made my slides and references available), and if you jump to the 28:00 mark of the video below of my presentation to the Marketing Club, you will see the tips I provided on getting noticed via social media.
In February, I was in touch with David Gerzof Richard (@davidgerzof) via twitter about doing a Skype lecture with the #ESM class at Emerson college (@EmersonCollege). Below you can see the view the class had of the lecture I presented on the 11th of March (I was actually in San Francisco at the time).
https://twitter.com/GemmaSimko/status/311240067807076352
This was my view of the class (note everyone has a laptop open).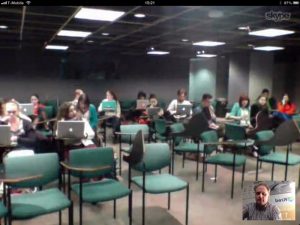 Last week I gave a lecture again via Skype to the Social Media for Marketing Communications class (#ritsm) at Rochester Institute of Technology run by Mike Johansson (@mikejny) and Raj Murthy (@rajsmurthy), and again the class asked a bunch of really interesting questions.
Thanks to @AndrewGrill of @kred for his time today in the #RIT #ritsm class. It's a classy guy who takes time for these things. 🙂

— Mike Johansson (@mikejny) March 28, 2013
What really surprised me in each case was the fact that many of my peers (both in the influence industry and the broader social media community) don't make themselves available to help educate our digital CEOs of the future.
I have made it a personal mission to make myself available (feel free to contact me direct), to universities and colleges to talk about any aspect of social business and social media. I believe that it is the duty of those of us in fortunate positions in these fields to help educate those up and coming "digital CEOs".
I cringe when I hear that my peers don't return messages about requests for interviews and lectures – what is 30 or 60 minutes out of your day?
Most of the lectures delivered above have been conducted on Skype on my iPad from wherever I happened to be – enabling me to fit it in with my normal schedule. In fact I actually learn more than I can ever tell the students, because they ask such great questions with a fresh pair of eyes.
Back in 2001, when I was CEO of commercial property website PropertyLook, I wrote and delivered a paper titled "Who will navigate today's leaders through the e-commerce minefield?" which was a follow on from some research from the same year from AK Kearney on "the characteristics of eLeaders".
Simply swapping out the word "e-commerce" for "Social Media", both papers are still relevant in 2013. Those students I have been speaking to will be in executive leadership positions in 10 – 15 years time. I want them to have all of the digital skills well before then, so that we don't keep hearing about the "unaligned executives" problem highlighted in the recent Altimeter report on the "evolution of social business".
In this report, they found that 48% of social business initiatives were being hampered because the executives making the decisions had no real concept of what social media was and why they should be using it.
One social strategist surveyed shared, "Many of our board members and executive leaders aren't even on Facebook, so social media is foreign to them." We found that in organizations where executives do not use social technologies, social media as a business tool is often limited in reach and understanding within the organization unless a business case is made.
My personal mantra has become "To get social, you need to be social."
We can't force executives to all of a sudden change their personality and jump on twitter. Instead, executives need to understand the potential business benefits and then surround themselves with those that do get social, and can "translate" this into a business benefit.
I don't believe that the change we need in senior executives will happen fast enough, and so this is why I am helping to educate the digital CEOs of the future one lecture at a time.