I am a big fan of Peter Shankman, I count him as a friend. He was part of the Kred leader's program in 2012 and continues to be a great source of support and advice.
I also love his Facebook updates – you never quite know what he is going to do next.
Today's update looked like this.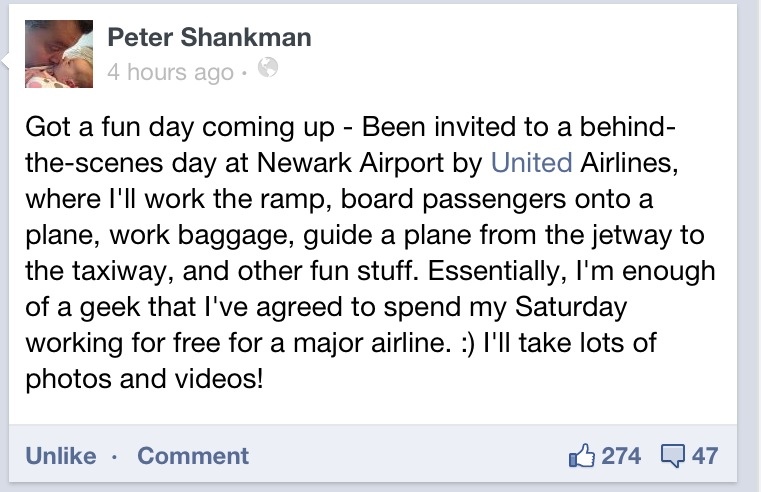 Now I know Peter flies a lot with United – he would probably be played by George Clooney in a movie about frequent fliers…er that's already been done.
What Peter's update shows is that United really do have a strong influencer program.
They know that not only do they have a loyal customer, they have one who is really influential in the areas where the decision about which airline to fly is made.
Amazingly, even though Peter pays a great deal of money every year to fly with United, they have actually got him to "work" for them for a day for free.
Smartly, they understand that for a frequent flyer like Peter, more flights isn't always what he is after. Also what is the "shrareability" of a free flight?
What IS sharable though is exclusive access to behind the scenes of an airline.
What United is also doing is ensuring guaranteed coverage by a key influencer.
Well played United, well played!
Below are just some of the shots Peter has been sharing on his Facebook page about his experience.
You can't buy publicity like this, and United haven't had to. They just asked Peter to tag along with them for the day.