IBM seems to be on a roll at the moment, and almost weekly I am seeing new marketing material from them to do with social business.
One recent report that caught my eye is titled "Patterns in achieving social business success by leading and pioneering organizations".
You can download the report, and I have provided a brief summary below.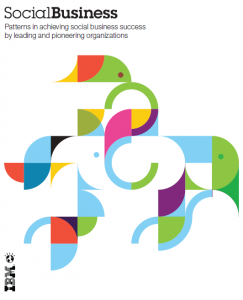 This is a concise report and it packs a powerful punch in the fight to move the "social media" discussion away from the marketing and communications teams and into areas of the business such as internal expertise identification, product development, internal communications and HR for recruitment.
They provide another great definition of "social business" and also expand on why this is relevant to companies of any size.
A social business is an organization whose culture and systems encourage networks of people to create business value.
The report goes on to say:
"Social businesses connect individuals, so they can rapidly share information, knowledge and ideas by having conversations and publishing informal content. They analyze social content from multiple channels and sources, in addition to structured data, to gain insights from both external and internal stakeholders.
When those things happen, innovation and business execution rates increase, better decisions are made, and customers and employees are more engaged and satisfied. Social businesses enjoy lower operating costs, faster speed-to-market, improved customer and employee engagement, and increased profitability."
The report introduces the concept of Social Business Patterns.
IBM defines Social Business Patterns are similar in concept to business process flows, in that each represents a repeatable, proven set of value-producing actions.
The report contains 6 social business patterns, and here I will look at 4 that that can be applied to any business.
Social Business Pattern 1 – finding expertise
The "value producers" as IBM terns them for this pattern include
quickly locate the right people, or published content containing, the expertise needed to solve a problem
connect the best possible resources to effectively respond to customer needs
document and share reusable solutions to common issues
create highly-engaged and productive employees
Social Business Pattern 2 – gaining external customer insights
quickly learn customers' opinions and preferences related to existing and potential products and services
identify and connect with key customer influencers to aid marketing efforts
Social Business Pattern 3 – increasing knowledge sharing
more efficiently and effectively capture, share and access knowledge
increase innovation through wider reach of ideas
reduce excessive, unproductive time spent searching and exchanging information
Social Business Pattern 4 – improving recruiting and on-boarding
collaboratively find and connect the right candidate to the right position
streamline assessment and hiring processes
better connect, engage and retain new hires
contextually recommend expertise to increase new hires' productivity
Rather than quoting the report extensively, I recommend you download the report and see exactly how social business can be used to provide real value in these parts of your business.
The report also contains vignettes of client case studies.
At under 10 pages, it is an easy, yet powerful read – something that can be used to start an internal dialogue to help get social of the marketing department and have it embedded into existing business processes across the organisation.