The issue of using electronic gadgets and WiFi on aircraft is back on the agenda. According to a report in the Wall Street Journal:
Current regulations, banning all devices until planes have reached an altitude of 10,000 feet, are now over 50 years old. And it seems increasingly clear that the electronic signal interference the ban was designed to prevent isn't actually an issue. With this in mind, the FAA put together an advisory panel last August to reconsider regulatory standards, and the first draft of its report has just been completed.
The real question remains, safety concerns aside as to whether it is a good idea to allow the use of internet enabled devices and mobile phones on flights at all.
Personal experience of in-flight WiFi
Recently, while flying on a United Airlines 747 from London to San Francisco, I was able to try out in-flight WiFi on the 10 hour trip.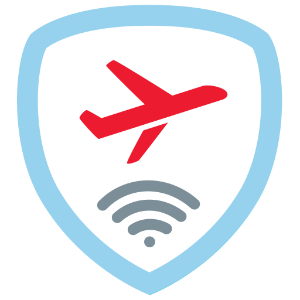 It was not the first time that I have used WiFi in-flight. On regular flights with American in the US, I have used the Gogo in-flight service which operates an air-to-ground service, meaning it works when travelling over areas in the US serviced by Gogo ground towers.
The service I used on my United flight was connected via PanAmSat (now Intelsat) and relies on a satellite link from the plane. This means that it works over the Atlantic as well as over the US.
The service itself was fairly reasonably priced, at $22.99 for "full web browsing access" allowing me access for the whole 10 hour trip with now download restrictions. It worked about 40% of the time, and whenever the crew rebooted the in-flight entertainment system, the WiFi went out as well. In fact I had to buy access twice as after the 1st reboot, the system forgot I had already bought a pass. I hope the United team refunds my purchase.
When the system was up and running, and I had finished tweeting where I was (ditto Facebook status update and G+ post), I settled into seeing how WiFi on a long-haul flight actually works in practice.
Tweeting at 34,000 feet on @united 900 over Scottish Airspace #unitedwifi http://t.co/DN2K7K5a7U

— The Actionable Futurist® Andrew Grill (@AndrewGrill) June 24, 2013
I had a real need to be in touch with my San Francisco based team while in the air, as I needed to finish a presentation before I landed. Having left instructions on email, without WiFi on the flight, I would be 10 or more hours away from a response. Thanks to in-flight WiFi I could collaborate with the team in real-time.
I also helped to organise a conference at 36,000 feet – grabbing a quote for a room at the Hospital Club and responding to a client about it in minutes.
I was also able to do some personal errands that my Wife had asked me to do when I got to San Francisco, and instead was able to do this mid-flight.
The most surreal email I received was from Ravi Mattu who is the business editor of the Financial Times. A few months ago we met in person and I have contributed to his "judgement call" section before.
His request is below, and was simply
Just wondering if you would be up for doing a Judgment Call for me. As someone who spends a lot of time on a plane, I thought you might have a view.
Last week, it was reported that the Federal Aviation Administration was going to relax the ban on using some types of electronic devices on flights. This is unlikely to lead to the use of voice calls in flight but it could mean other devices, such as tablets, could be connected to the web for the duration of a flight. Staying switched on may be good for work but is it good for the worker?
Reading Ravi's request at 36,000 feet over Canada, I had a good chuckle, then responded to him in about 5 minutes – my response can be seen in the FT.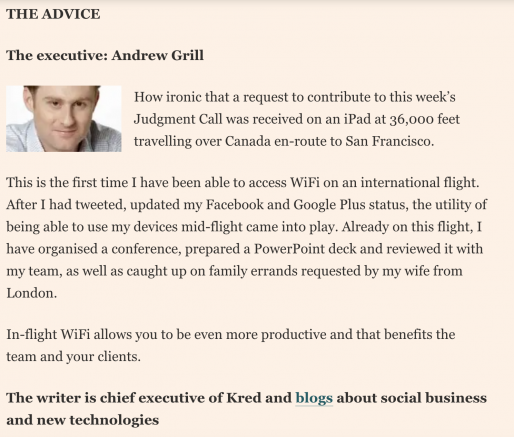 The double irony was Ben Smith's tweet as he read the piece in the physical paper while on a (non-WiFi) flight to Stuttgart.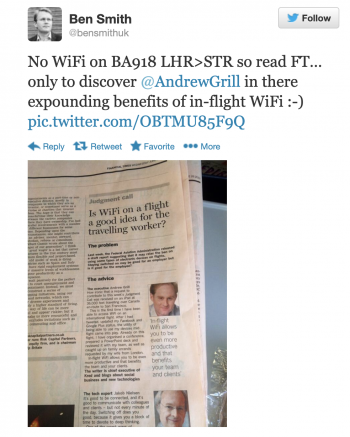 So the question remains – should we allow WiFi and/or mobile calls on a plane.
My view is that having the option to access the internet on long-haul (or even short-haul) flights should be allowed. If I really need to call someone on the phone, there is always the satellite phone (at around $10/minute) so $22.99 for 10 hours of WiFi seems like a pretty good deal.
It also meant that I could keep in touch with my clients and family for (most of) the trip.