For over a decade, the IBM Institute for Business Value has been surveying C-Suite executives to discover how digital is affecting their business, and how these executives see the landscape changing.
In my view, it has become a good bellwether to see what is keeping the C-suite awake at night.
Trends emerging in 2010, 2011 and again in 2012 showed how social, and more lately social business is being seen as very important among senior executives.
The 2013 survey is due to be released in October, and IBM has released some highlights ahead of this.
These include
64% of CMOs want to approach customers as individuals
71% if CIOs see communication moving towards more social/digital collaboration
55% of CHROs forsee increasing organisational openness
Interestingly, in 2013 only 34% of organisations have an in-depth understanding of their customers, and they expect this number to rocket to 78% by 2017
Showing the opportunity for customer insights, the 2013 survey shows that only 1 in 5 organisations have the capacity to use Big Data.
These facts and more can be found in the infographic shown below.
UPDATE: The full survey can be downloaded from the IBM site.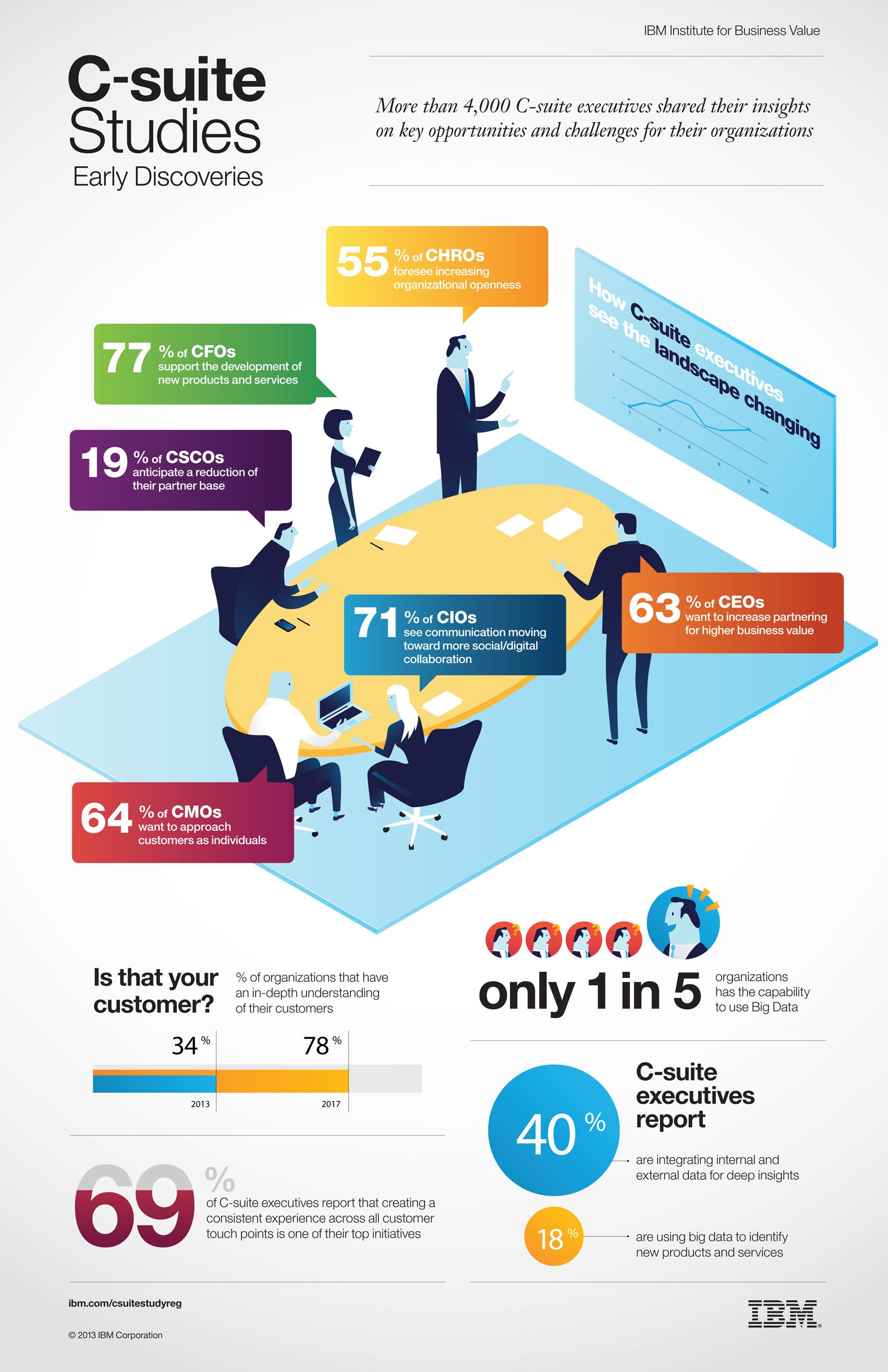 I look forward to the full report being released – and it will be interesting to see what is keeping the C-Suite awake in 2013, and what they will be worrying about, and hopefully investing in these capabilities into 2014.
UPDATE: Lee Bryant tweeted this post, and also raised a very interesting question…
c-suites want to be more social businesses, says this survey: http://t.co/83ZjKpE23M …but we know their orgs struggle to change. How to fix?

— Lee Bryant (@leebryant) August 31, 2013
He was echoing what many of my peers are saying about how social is impacting companies, and challenging the existing strategies, in that we know these organisations are struggling to change – so how do we fix this?
Importantly, it is not an overnight fix. Thirty years of processes now laid bare by a single negative tweet can be hard to fix.
I think there are two issues of note here.
1) We as an industry have only ourselves to blame.
"Social media experts" throw industry jargon such as impressions, followers, likes, influencers at the C-suite, and they struggle to understand what we mean.
This was borne out in a survey of 698 executives by Altimeter Group.
One of the most telling findings from this report was that only 52% of companies surveyed agreed with the statement, "Top executives are informed, engaged, and aligned with our social strategy." Despite the initial funding that created their positions, many social strategists we interviewed felt that without deep executive support, they didn't have the validation, direction, and resources to move beyond tactical efforts.
One social strategist surveyed shared, "Many of our board members and executive leaders aren't even on Facebook, so social media is foreign to them." We found that in organizations where executives do not use social technologies, social media as a business tool is often limited in reach and understanding within the organization unless a business case is made.
To get the C-suite to understand us, we need to use the language they understand such as customer churn, profitability, shareholder value, customer satisfaction etc. If we can pitch the need to develop a social program that improves the bottom line, they will be all ears and fund the initiative.
2) Let's assume that the current C-Suite will never "get social" in the ways we need them to.
Instead, do what Angela Ahrendts, Burberry CEO has done. Quoting from an article posted on the Brunswick Group website titled "The Democratic Republic of Burberry"
Ahrendts recognized that Burberry employees, like its target customers, are young – 70 percent of those who work at the company's headquarters are under the age of 30. To capture this theme institutionally, Ahrendts created two linked bodies that, on the one hand, allow ideas to flourish and, on the other, follow through and turn the best of those ideas into brand-enhancing initiatives.
The Strategic Innovation Council is a formal monthly forum that Ahrendts set up to gather the "young next generation of great thinkers" at the company. Chaired by Bailey (Chief Creative Officer), "the remit of this council is to dream," she says.
Alongside it is the Senior Executive Council, chaired by Ahrendts, who says that its purpose is "to execute this young vision." These forums send an important message: "We actually flipped the traditional hierarchy and the way we communicated these councils showed the entire company that we were serious about being creatively led."
So what Angela did is she said: "I don't have all the answers here, so let's tap into our own young and connected staff and empower them to help us reach our business goals."
Is your CEO brave enough to admit they don't have all the answers and instead surround themselves with those who do? This forward-thinking culture shift from Burberry is what is needed to realise the true benefits of Social Business.
The early view of the C-suite study can be found at lc.tl/csuitestudy.