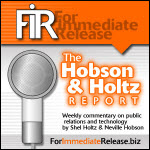 Recently I spoke with good friend and blogger Neville Hobson.
In this 20 minute interview, first broadcast on FIR, I told Neville why I believe social business is an imperative for organizations today. In my response, I offered a way of defining the term "social business" that focuses on people, behaviours and organization change, rather than purely on social software and networking.
We also talked about how some organizations have embraced social business and can demonstrate measurable benefits. We outlined the primary obstacles preventing more organizations understanding and acting on the ideas behind "social business."
The interview concludes with my top tips and advice to any organization today – no matter its size or industry – regarding what they need to do to embrace the concepts of being a social business.
You can listen to the episode below.
[mejsaudio src="/wp-content/uploads/fir-andrewgrillibm.mp3″]