I was reading the cover story from Bloomberg Businessweek's December 2014 edition titled "Can UPS Save Christmas" during some downtime over the last week.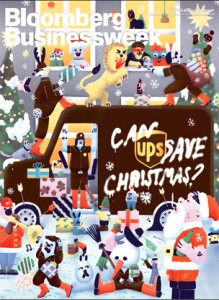 The article profiles Scott Abell ("Mr Peak") who is in charge of the peak planning at UPS for seasonal events in the US such as Thanksgiving and Christmas. Bloomberg looks at what might happen if the peak planning team gets it wrong at the busiest time of the year.
Did the article jinx Christmas for UPS?
As we know from all of the media coverage, Amazon deliveries were severely impacted by delays in the UPS network in the days before Christmas.
A WSJ article explains how the late surge in web buying blindsided UPS and retailers, and reports that web sales jumped 37% from the year before, according to IBM Digital Analytics.
One of the telling parts of the December 2013 Bloomberg story that made me wonder if UPS could cope with a late surge was the following paragraph:
"But plans can be ephemeral. Abell grows slightly exasperated talking about a last-minute decision by one of his largest customers that will dump a huge number of packages into UPS's network on the weekend before Christmas. As a result, Abell spent five days developing a new plan allowing UPS to operate double shifts at Worldport during the final weekend before Christmas."
While it is unfortunate that many people had their Amazon deliveries delayed, the whole episode points to an interesting change in behaviour from both online sellers and consumers.
Online Sellers – what's changing?
For online sellers, the promise of "have it tomorrow" is fine to make if you can get all of your own logistics in order, but if you then flood a traditional delivery business (in this case UPS) with a 37% increase in packages against last year's figures, in the days before Christmas then something is bound to go wrong.
It is not only happening around the Christmas peak though, online retailers are promising delivery times that even a year ago would be considered unbelievable as well as uneconomic.
Ebay's recent purchase of London "rapid delivery service" Shutl will only help to feed the consumer appetite for "I want it now" as they promise delivery from a variety of retailers in under an hour when the buyer and seller are in the same area.
Some analysts suggest that Amazon needs to start their "own UPS" in order to have end-end control of the buying and delivery process.
Amazon drones aside, the company may be closer to having their own delivery network a reality.
Amazon Fresh, already available in their hometown of Seattle, Los Angeles and now San Francisco (think an Ocado grocery delivery service for those reading this in the UK), uses Amazon's own trucks and drivers to deliver groceries the next day.
Changing Consumer behaviour
Encouraged by the "next day" promises from online retailers, consumers seem to be changing their behaviour to that of a "just in time" mentality.
This lead to many parents in 2013 leaving their Christmas shopping to literally the day before, and relying on the next day delivery promise.
Coupled with the fact that you can now track the status and location your package on an almost hourly basis, this puts incredible pressure on the retailers to ensure parcels are sent in a timely fashion.
In the days before online shopping (think mail-order catalogues), waiting many days or even weeks for your latest purchase to arrive was the norm. With no real ability to track the parcel, we simply had to "hurry up and wait".
The events of Christmas 2013 got me thinking. Now that consumers have the taste for speedy delivery, and digital business are helping to fuel this with hyper efficient warehouse and logistics processes, will we see a shift towards these "last mile" delivery firms such as FedEx and UPS gearing up to handle next day deliveries as the default?
Online Shopping – my own experience
I remember when online shopping became a permanent fixture in the Grill household.
I was in Sydney in February 2010 visiting clients when my wife called from London and told me she had "discovered Amazon".
She had always been reluctant to dive in head-first to online shopping because of 2 main barriers.
1) delivery – knowing when your parcel is being delivered. Who wants to sit at home all day waiting for a delivery? Knowing when your parcel is being delivered (down to an hour window) means you can go and enjoy your day.
2) returns – the biggest issue for my wife was around returns. If she did not like the item, or it was the wrong size, then she wanted a no-fuss way of sending it back.
Thankfully these 2 issues seem to have been solved, and we hardly ever visit a grocery or department store. All of our Daughter's books, DVDs and toys come from Amazon. Our groceries are delivered by UK company Ocado, and my wife even buys our clothes online, safe in the knowledge that the retailers we deal with have a zero-hassle returns policy.
Online retail in 2014
Recent figures from the US Commerce Department shows that e-commerce accounts for about 6% of overall U.S. retail sales, and for the 2013 holiday season, online purchases will be nearly 14% of sales.
In the UK, leading retailer John Lewis has reported a bumper Christmas period, and echoing the trend in the US, CEO Andy Street was quoted as saying that consumers had held back spending until the final week before Christmas and that retailers who "held their nerve" by not cutting prices will have benefited.
"People were expecting it to be better, but, actually, one of the most interesting features is how trading has been a different shape from previous years. You usually see a steady uplift and then it actually plateaus, but there was a very intense, late peak.", said Mr Street.
Mr Street also predicted that by 2020 online sales will account for half of John Lewis revenues.
"We will have national coverage, we will probably be a 50-50 business: 50pc online, 50pc in store".
So if online retailing is the future, and we saw what can go wrong during the Christmas season, what innovations will we see in 2014 to take online shopping to the next level, and what % of online sales will we reach in December 2014?
Interesting times ahead…