Back at Kred, I was involved with promoting the new top level domain dotCEO (.ceo), and now you can grab your own dotCEO domain name via a number of registrars.
More on this below, and I'm also one of the first to have my own .ceo at andrewgrill.ceo, which at the moment is set up a little like my about.me page.
UPDATE: April 2017 – I no longer have andrewgrill.ceo. I was provided a free domain for launch by the .CEO registry but was not prepared to pay the $99/year fee for the 2nd year as I could not justify the expense. I have focussed on my actionablefuturist.com domain as my main domain.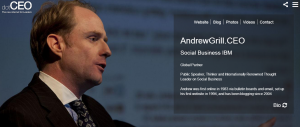 dotCEO Domains General Availability Announced
The New Internet for Leaders
San Francisco – Friday 28 March, 2014 – PeopleBrowsr, owner of the registry operator for new Top Level Domain dotCEO, has announced General Availability. dotCEO domain addresses and identities will be available for purchase at Noon (ET) on Friday, March 28 2014.
dotCEO (www.home.CEO) is positioned as the only TLD to convey authority and power. Over the last few weeks 100 of the Fortune 500 registered their dotCEO domains. 3,000 individual CEOs are on the wait list. More than 45,000 premium dotCEO domains will be released.
Jodee Rich (www.PeopleBrowsr.CEO), CEO of PeopleBrowsr said, "dotCEO is the powerful new domain Identity that defines your personal brand online. It is an address for leaders and entrepreneurs who want to control their brand and reputation."
Top influencers across a broad scope of industries have requested their personal dotCEO domain identity. These leading CEOs include:
Hollywood Celebrity CatherineOxenberg.CEO – Former Dynasty actress and CEO of production company Holy Cow
LinkedIn Guru NealSchaffer.CEO – President of Maximize Your Social and featured in Forbes as one of the Top 5 Social Salespeople in the world
Top LinkedIn Influencer NaomiSimson.CEO – Blogger and Founder of online gift experience retailer, RedBalloon
Social Business Influencer AndrewGrill.CEO – Former Kred CEO and Global Partner at IBM Interactive Experience
PR and Marketing Leader Jennie-Marie.CEO – Founder of the first dedicated international marketing consultancy for Top Level Domain registries
Politician ChristineJones.CEO – Candidate for the Governor of Arizona and Former Executive Vice President at GoDaddy
Primetime TV Host JeffreyHayzlett.CEO – International marketing & public relations leader and current CEO of The Hayzlett Group
Domain Investor and Industry Guru MonteCahn.CEO – Co-Founder and President of Right of the Dot, LLC
Radio host DannahLewis.CEO – Speaker on Creation in Action and owner of Delicious LifeStyled
Leading Social Media Influencer BrianSolis.CEO – Founder and Executive Chairman of The Confidante
Agency CEO and Entrepreneur MattSingley.CEO – social media and advertising CEO of Singley + Mackie
Marketing Guru JeremySchoemaker.CEO – Co-founder of AuctionAds Service and Founder of NextPimp.com and ShoeMoney Media
Leading Global Accounting Professional GlendaNixon.CEO – International Chairman and Managing Partner at Accru Felsers
New TLD Guru Ray King Portland.CEO – CEO of new TLD applicant Top Level Designs
dotCEO domains can be purchased through participating registrar partners including Name.com, Hexonet.net and 101domain.com. (See below for list of other featured registrar partners.)

About PeopleBrowsr
dotCEO TLD is owned by PeopleBrowsr, the registry for dotBest and dotKred. Over the last 5 years, PeopleBrowsr has developed cloud and application based social analytics and social network technology, as well as a social datamine which includes a global database of Social conversations and profiles. The Datamine is one of the largest in the world and contains one trillion conversations and over 500 million social media profiles.
Media inquiries can be directed to JodeeRich@PeopleBrowsr.CEO