My good friend and fellow former IBMer Guy Stephens (@Guy1067) is well known as a pioneer in the social customer care space, having been involved in the early days of social while at Carphone Warehouse.
I was delighted to read that the has just released a collection of the views from 16 leaders in the social customer care space. You should download the report and set aside some time to read it.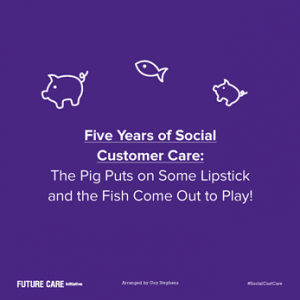 Guy has assembled an amazing mix of views, from Dave Carroll of United Breaks Guitars fame, through to Frank Eliason formerly of @ComcastCares.
The full list of contributors is below

Frank Eliason, Citibank: @FrankEliason
Richard Baker, Carlsberg Group: @TheIntrapreneur
Graeme Stoker, Freelance Digital Consultant: @Graeme_NCL
John Bernier, Lubrication Technologies: @BernierJohn
Dr Natalie Petouhoff, Constellation Group: @DrNatalie
Esteban Kolsky, ThinkJar: @EKolsky
Bob Thompson, CustomerThink: @Bob_Thompson
Barry Dalton, Strategy&: @BSDalton
Colin Shaw, Beyond Philosophy: @ColinShaw_CX
Vincent Boon, Standing on Giants: @VincentBoon
Wendy Lea, GetSatisfaction: @WendySLea
Mitch Lieberman, DRI: @MJayliebs
Kate Leggett, Forrester Research: @KateLeggett
Dave Carroll, United Breaks Guitar: @DaveCarroll
Martin Hill-Wilson, Brainfood Extra: @MartinHW
Joanne Jacobs, 1000heads: @JoanneJacobs
Joshua March, Conversocial: @JoshuaMarch
What is interesting is that while many of the contributors have founded, and lived through the early days of social customer care, many of them suggest there is still a long way to go for most companies.
What I am seeing as I speak to IBM clients from some of the world's most recognized companies is many of them have much to learn on how to truly provide excellent social customer care.
Social Customer Care in my opinion needs to get out of the marketing department and become integrated into all parts of the business.
An Airline that receives a tweet about a lost bag should not have that handled by the marketing team, but instead it should be passed direct (triaged automatically using smart analytics) to the baggage team for action.
Even in recent weeks, I have interacted via social, email, phone and online with a well-known organisation that appears to be doing social "well". I can report from a consumer perspective that every process I encountered was broken, and only when I spoke to a senior executive at the company by phone this week (bypassing all the protocols and reaching out to the head of social via a DM) did I have any real comfort that the issue I was experiencing was being addressed.
I still think that social customer care has a long way to go, and as Guy asks in his piece at the end of the report – "What will social customer care look like in 5 years' time".