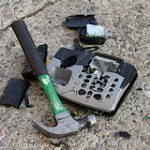 With the recent news via Bloomberg that Coca-Cola is shutting down voicemail, it got me thinking – is this digital disruption at work on a massive scale?
The article suggests that there would only be a $100,000 saving per annum, however the productivity savings could be huge.
I for one have not used voicemail for many years (I was forced into using it 12 months ago as it is hardwired into my corporate phone account), and instead used a live answering service to take the call, check the details and send me the message via email or text.
In fact I've been anti-voicemail for many years, and when callers hit my personal answering service, provided by AllDay PA, they would often ask me why I had shunned voicemail.
When I explained the rise in productivity (not having to spend literally minutes getting to a message then having to WRITE DOWN the number of the caller) they too agreed that this was a better way.
I have been using a human to take my calls since I was at University in 1991 and I had a pager – the same one pictured on the left (this was well before mobile phones). The lovely team at Hutchison Telecoms in Adelaide would take my call on a dedicated number, check the spelling of the caller's name, and verify their number then send me the message direct to my pager in seconds.
When I graduated to a mobile in 1994, I kept the same service, but had the message sent as a text to my phone.
For me Voicemail is a technology and a business process stuck in the 1990s.
If I am in an internal meeting, I can quickly and discretely check an email or SMS, but taking a voicemail would be impossible.
Being able to multitask and triage messages coming to me makes me more efficient, and I can provide a better level of service and faster response to my clients as a result.
Thanks to digital disruption, and organisations like Coca-Cola, voicemail may soon be a thing of the past.
So I predict in 2015, that many other companies will move away from voicemail (see also my recent article on the social switchboard) and look at more efficient ways to get the message across.
How about you, are you ready to hang up on voicemail yet?
I'd like this opportunity to wish my readers and followers a very merry Christmas, thanks for reading in 2014 and your continued support.