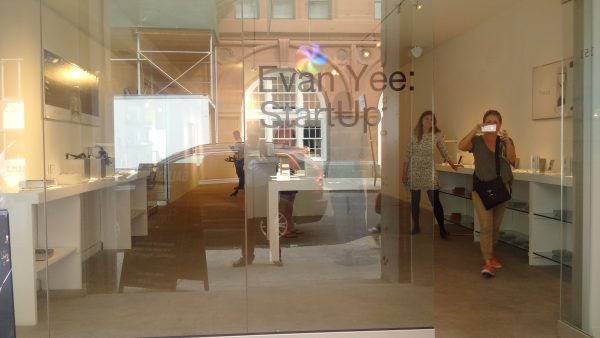 Walking around New York over the weekend after a week of business meetings, I stumbled across a fantastic exhibition at Gallery 151 in Chelsea titled "Startup" by Evan Yee.
The exhibition brilliantly pokes fun at the concept of today's technology, as the pictures below show.
If you're in New York between now and June 15, it is worth a look.
From the publicity for the exhibition
Evan Yee : StartUp

On View May 14- June 15, 2015 at Gallery 151

132 West 18th Street, New York, NY 10011

Opening Reception Thursday May 14, 7-9pm

Gallery 151 is pleased to present StartUp, a conceptual mobile and technology installation by Evan Yee. In StartUp, the artist creates and displays physical interpretations of phone applications as well as reappropriated tech items, creating an experiential commentary on the digital generation. In the artist's audio statement, Siri dictates the phrase "iThink, if Utopia holds convenience, then the future holds Utopia." Startup encourages the viewer to evaluate obsessions with contemporary design, convenience and the future.

With the explosion of app creation over the past six years, virtual environments have eclipsed "mechanical" utilitarian objects. Apps and the platforms and the technology that hosts them are at the forefront of commercialism, function and design. They blur the boundaries between the physical and digital worlds.Yeehas created objects that are whimsical in their nature and scale, yet dystopic in their implication.

Evan Yee's StartUp is designed with the contemporary feel of Apple's retail environment, displaying physical iterations of apps as art objects. Presented with a dark underlying humor reminiscent of Kurt Vonnegut and Stanley Kubrick, here we are presented with the paradox of applications that we perceive to have functionality but may not perform any function at all.
Evan has created a number of fake products, all of which poke fun at their real equivalents. They are beautifully presented in a way that makes you think you could even be in an Apple store …
Click on the images below to read a caption about each one, or read more on Evan's website.