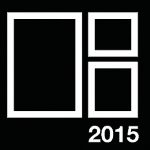 UPDATE 2021: Humbled that this experience below was also included in an article on The Muse about being an Ally via a LinkedIn post by Justine Philp from Adobe Australia.
UPDATE 2015: If you are reading this post, then you are among the thousands who have this week on a number of platforms such as Quartz, Huffington Post, LinkedIn and the Australian Women's Agenda Network. Twitter has also been set alight by the #panelhack hashtag.
I have been humbled by many of the comments, via Twitter, on the platforms listed above and via direct message, LinkedIn and my contact form that have complimented me on what I did.
I am glad that the issue of panel diversity has been raised to a global audience, and it has already made other panel organisers reconsider their panel mix. I'm proud to be a #Manbassador. See where I will be speaking next on my upcoming events page – and perhaps you will see me hacking a panel at an event near you!
Conscious that I am overseeing an all male panel at IEEE ICC in a week or so. @AndrewGrill's #panelhack could get revisited @MischaDohler ?

— Dr. Dan Warren (@TMGB) May 29, 2015
Even the All Male Panels tumblr set up by Saara Särmä (@huippumisukka) rated an honourable mention for this #panelhack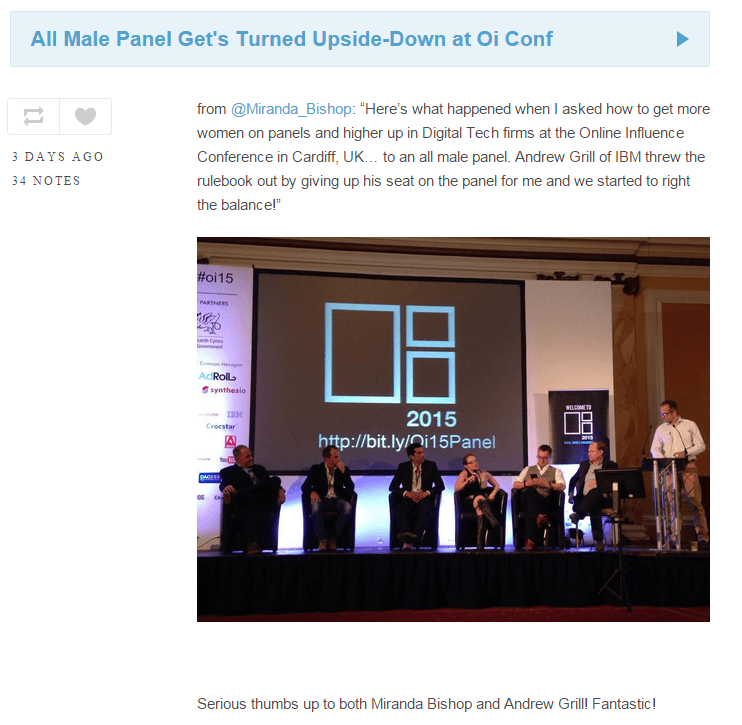 The original post is below…
On the same day as the UK Election (May 7th), I was honoured to be invited to present at the Online Influence conference in Cardiff.
I presented a keynote in the morning on "from Social Media to Social Business" which was well received from the tweets and feedback at the event. You can watch a video replay of the talk here.
I was also invited to take part on a panel as the last item of the day, in front of 300 or so people.
The panel consisted of William Conner, from PWC, Jeremy Waite from Salesforce (a good friend of mine), Michael Page, from Synthesio, Luke Moore, from Crimson Hexagon, and Mike Bevans from Yahoo.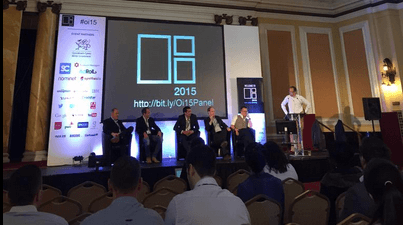 When I took my seat on stage, I very quickly realised that the panel consisted of five middle-aged men (6 including William as Chair), clearly not a fair representation of the digital, social or even real world.
What I had learned just before the panel started was the fact that there were two female panellists that had been invited (thus balancing the mix with 40:60 female), however, both were unable to attend, one apparently involved in voting on the General election being held in the UK on the same day.
Some way into the panel, a young woman asked the obvious question – where are the women?
I am not sure if William knew about the 2 female panellists dropping out, so no mention of it was made, making the five of us look quite stupid on stage at that very moment.
We were asked to respond to the issue of gender diversity, and I mentioned that I fully support women on boards, and there is also an active campaign by the UK Government, headed by Lord Davies to ensure 25% female representation on boards by the end of 2015, and in Australia, this goal is 30% by 2017.
I did mention that there was a real opportunity for people of either gender to prove their Digital literacy (thus helping to inject strong digital skills on FTSE100 boards), and this is a topic for an upcoming blog post. You can watch a replay of my presentation at the Northern Ireland Chamber of Commerce in Belfast earlier this month where I outlined the urgent need for digital literacy on boards in the UK and beyond.
However, as I was talking about digital diversity I realised I was not addressing the very real issue of gender diversity on the very panel that I was sitting on.
I asked the young lady her name – Miranda she said.
Hacking the panel format
What happened next changed the whole dynamic of the panel and the discussion, and it lit up Twitter.
I offered to give up my seat on the panel and invited Miranda Bishop onto the stage. As I heard discussed after the panel, there was some encouragement from those sitting around Miranda, and she came forward to sit on the panel for the rest of the session. In fact, as Miranda tells it on her blog post about the experience:
As I made my way down from right at the back of the hall I think my whole body turned red from blushing. Also it's actually quite lucky that this was a conference about something I am pretty well-informed on in hindsight…
great to have @Miranda_Bishop on stage with us on the panel at #oi15 pic.twitter.com/WmyXBwaAG9

— The Actionable Futurist™ – Andrew Grill (@AndrewGrill) May 7, 2015
Thanks so much @AndrewGrill for giving up his seat for me at #Oi15. Amazing feedback!

— Miranda Bishop (@Miranda_Bishop) May 7, 2015
After the event, I heard that the organisers literally were looking through their hands wondering what this crazy Australian had done, and fearful of what might happen next.
As it was, Miranda brought an amazing perspective to the panel as a 26-year-old small business owner. She explained that when she left school she found it hard to get a job so she started her own social media training agency, "Talking Social Media".
The response to our new panellist was extremely positive, as I had expected.
It's official. @Miranda_Bishop from @Talking_SM rocks! #oi15

— Louise Hiscott (@louczek) May 7, 2015
Great to see @Miranda_Bishop representing women on the #oi15 panel – good to hear a different perspective on working in the digital space

— Sian Greenslade (@siangreenslade) May 7, 2015
Role-models for young women and investment in female-led companies: amazing advocacy. @Miranda_Bishop @OiConf #Oi15 pic.twitter.com/31yC1rGsdx

— CREO (@hello_creo) May 7, 2015
Wow I've had emails, tweets, texts and facebook messages from people who weren't even at #Oi15 today! Crazy!

— Miranda Bishop (@Miranda_Bishop) May 7, 2015
Sharing a panel stage with IBM, Yahoo, Synthesio, Crimson Hexagon and PwC was a serious highlight of #Oi15. #SitAtTheTable

— Miranda Bishop (@Miranda_Bishop) May 7, 2015
Now I am sure I am not the first male panellist to give up my seat and try to inject some gender diversity into a conference panel, but we still have a long way to go. There is an excellent Tumblr called "congrats you have an all-male panel" that calls out the many, many conferences that neglect a female voice and perspective.
Miranda rightly asked the question that many were asking at the conference, and she also had the confidence to come forward when I asked her to join the panel, and I am so glad she did.
So next time you are at a conference where there is an all-male panel, be the one who says "this is not right" and do something about it – in real time.
UPDATE: 10 June 2015. This story just keeps on giving. Today I received in the post the following gift from Miranda, thank you so much!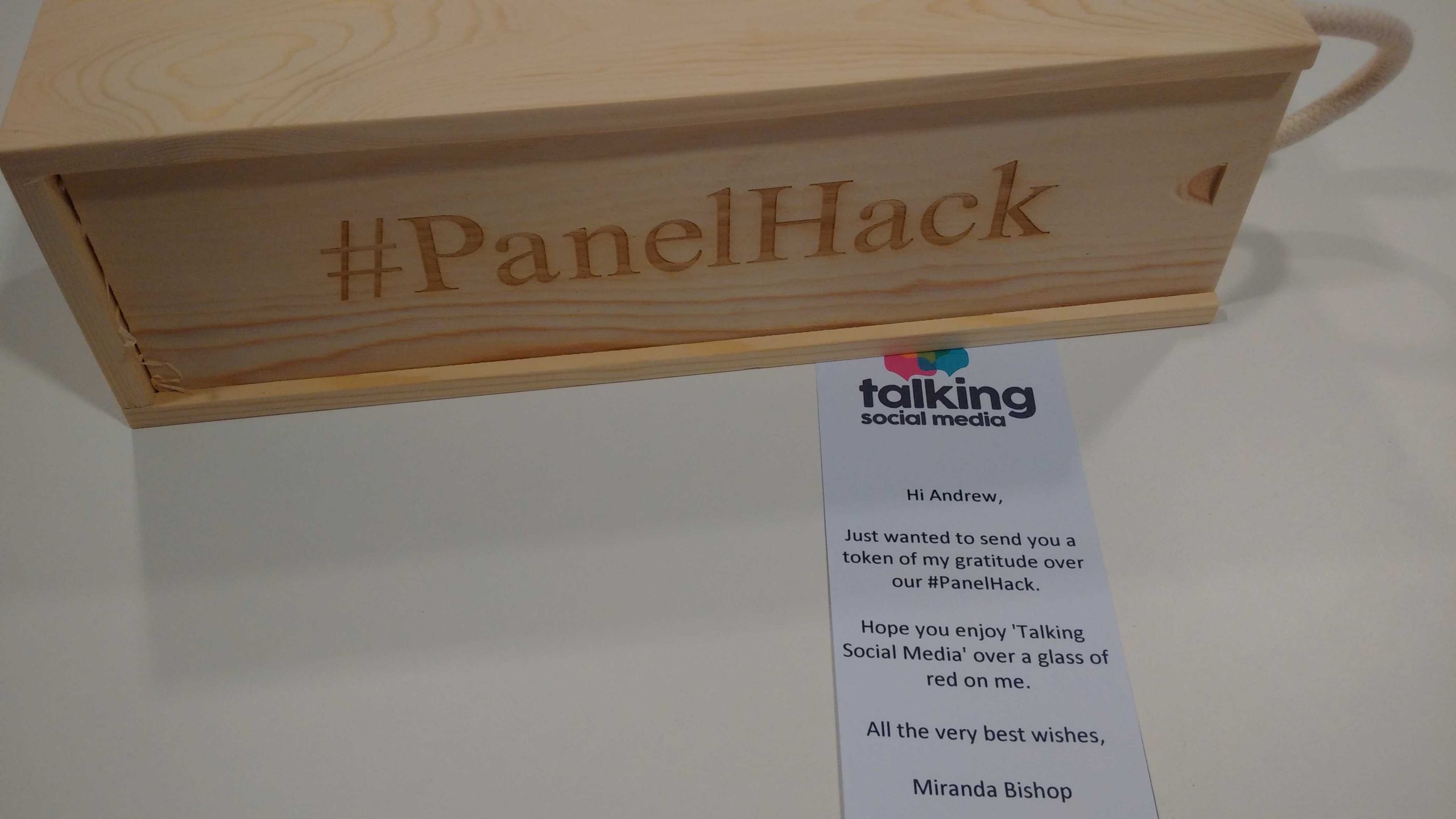 UPDATE: 15 June 2015. Andrea Barrica (@abarrica) tweeted about how she crashed a panel recently at the Shift Conference in Split, Croatia
Hey @AndrewGrill, appreciated your effort. Check out mine: https://t.co/gCVljzX4af #panelcrashers

— Andrea Barrica (@abarrica) June 15, 2015
This is where #panelhack meets #panelcrashers. If we all address this problem, then it won't be one.