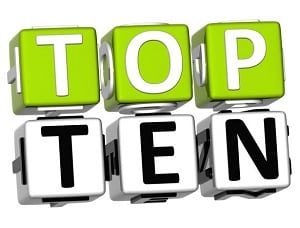 As we end 2016, I was looking back at a post I used to do around this time every year – the gadgets, apps and websites that I had relied on.
I realised that I had not done a list since 2013, so reviewing that year's list I looked at who's still there and who has been replaced.
My 2013 list is below
Clicky – web analytics
Briggs & Riley iPad bag
iPad on 4G from EE
Toggle Mobile – roaming mobile provider
Tripit Pro – travel app
Pressreader – read newspapers as they were published
CodeGuard – website backup
Rebrandly – personal URL shortener
World Time Buddy – world time calculator
Sticky password – password management
So what's new for 2016?
Looking at my updated 2016 list, some items I have swapped out, and I've added another 10 to the list as there are a number of gadgets, apps and sites I use and recommend and you should also consider. The reasons why I swapped are below also – I hope this is useful and you can save some time (and money via some of the links).
1. Clicky + ClickMeter – web analytics (way better than Google Analytics)
I've been using Clicky for years now for my web stats, and I continue to do so alongside Clickmeter (look out for a review in early 2017). Clickmeter teams perfectly with my new Rebrandly URL shortener (replacing the open source YOURLS), and gives me deep analytics on every click, then on the posts on my blog. Soon Clickmeter will be able to measure all posts and pages of my blogs so it will rival Clicky but I plan to keep both in place so I have a total analytics picture.
2. Briggs & Riley Backpack (model VP-375-4) – I still have the iPad messenger bag from my 2013 list, and when a LinkedIn branded Wenger Swissgear rucksack I was kindly given in 2014 came to the end of its life, I went back to Briggs and Riley (where I source all my travel luggage from) and it has lasted me for more than 12 months with little signs of wear. It carries a 13″ MacBook Pro and an iPad + cables and batteries without skipping a beat.
3. iPad on 4G from EE. I've now become a Mac convert, ever since IBM upgraded me to a MacBook pro in 2015, and I purchased my first ever iPhone (yes really – a 6s) in January 2016. As they say, once on a Mac you'll never go back.
4. Truphone – Last year I swapped back to Truphone from Toggle as my roaming mobile provider. They offer flat 6p calls to mobiles and landlines in Australia, and Toggle's mobile rate was much higher. I also get to keep an Australian 0418 number which was the first GSM number prefix – so a valuable number to have. Taking a look at their website, it seems they only offer business roaming plans.
5. TripitPro – I'm still travelling extensively so my $50/year TripitPro subscription allows me to email my travel itinerary to them directly. It then parses it and enters all the details and watches the flights for changes. I have saved many hours when TripIt told me my flight had been delayed or cancelled, or which gate the plane was leaving from.
6. Pressreader – still my preferred app for reading newspapers from the UK and Australia on my iPad every day. I also have subscriptions to the Wall Street Journal, New York Times, the FT and the Economist as well. I read as much as I can to stay up with all things digital!
7. CodeGuard – this service has saved me many times! Read my CodeGuard review here, and see how you can safely and securely back up any website, daily.
8. Rebrandly URL shortener. Late in 2016, I discovered Rebrandly. I was sad to say goodbye to Yourls but with the Clickmeter integration I am now getting deeper level analytics on all my short URLs. You may note that all the clicks from this article are on my dgital.link domain – powered by Rebrandly.
9. World Time Buddy (web and iPhone) is still my go-to app for scheduling calls and meetings in different timezones. Back when I started using it the developers gave me a TEN YEAR subscription I was raving about it so much.
10. LastPass – password manager. Security has become so critical. I have a different password for EVERY service and website I use (over 1000). That means there is no way I can remember them all. LastPass has become my default and they offer 2-factor authentication as well so my one master password is even more secure.
Honourable mentions
The next ten items I also use on a regular, if not daily basis and are worth a look.
CoSchedule – blogging content calendar including smart scheduling. Read my CoSchedule review.
KeyCDN – a fast and reasonably priced Content Delivery Network to serve my blog faster. More here (this link gets you 250GB to play with – more than some bloggers will need in a year.
Spotify Premium – I pay the £10/month to remove ads, highest quality streaming and to download music for the plane. Right now in the UK you can get 3 months of premium for £0.99
Sony SRS-HG1 – a WiFi enabled portable speaker. Also connects via bluetooth. I can use Spotify connect to send tunes to it directly,
Global Entry – for rapid access into the US. I also get TSA-PRE Check so get on US outbound flights faster. The UK Government/US Government vetting PLUS an in-person interview in the US was worth it for the time saved not being in US immigration lines.
Anker 10 port USB charger – 10 USB ports at 2.4A on each port for charging everything and anything on the go
VyprVPN VPN – simply the best VPN solution around. I use it on every device to connect me securely when using public WiFi. Use this link to get 40% off a 12 month subscription (that's just $60 year with this link).
Pocket – "Save for later" service. I used to use my own self-hosted semantic scuttle bookmark system. Pocket rocks. Period. Use it so save anything to read offline later on multiple devices.
Grammarly – helps proof read anything you write and provide suggestions on grammar and spelling
Premiere Pro CC – What I edit all of my speaking videos with. Not cheap, and it takes a while to master but really worth the price.
Do you use any of these or have more to add to my list? Feel free to leave a comment below or tweet me @AndrewGrill.
Have a very Happy New Year and best wishes for 2017 to all our readers.