A version of this post originally appeared on the Changeboard website, where Andrew is a regular contributor.
With the explosion of content on the web, how do you get candidates to see your job postings and consider working at your company? You to stand out, you need to think like a marketer writes Andrew Grill.
If you are reading this post, then you are most likely in a recruitment or HR function. You may therefore be wondering why I am taking about marketing??
In this digital and social age, I firmly believe that recruitment has now become a function of marketing.
Now I'm not suggesting for a moment that you are all now part of the marketing team, but each of you performs an interdependent function for each other.

Your external presence says a lot about what it's like to work at your company
No longer are candidates just looking at the jobs page of your website, they are also looking at how you treat customers via social media. After you have read this article, have a look at the main twitter page for your company to see what first impression you create for a new hire. Is it full of "we're sorry" tweets about customer service issues? If so, then this is likely to impact them if they join. If instead they see a stream of thoughtful content, interspersed with thought leadership and opinion from your own staff, this is more likely to attract them as a potential hire.
Candidates want to work for a company that aligns closely with their career goals and increasingly we are learning that "millennials" also want to work for a company that is in line with their values.
When developing a recruitment campaign for new hires, or even a hard to find executive, you need to think like a marketer. How can I get my company in the "consideration set" of a potential new hire?
With so many companies now competing for top talent, the jobs section of your website may be the last place that a candidate sees during a job search.
Instead, candidates are becoming digitally savvy in their quest to look beyond the job ad find out what it is really like to work at your company.
I'm not suggesting for a moment that you need to go to the marketing team and ask for a huge increase in your marketing budget, and start to push recruitment ads out, but you can think more tactically when thinking like a marketer, and use the "5 Ps of Marketing" – price, product, promotion, place, people to drive your recruitment strategy.

Recruiters need to think like marketers
Marketers try and get consumers to consider their product or service over and above someone else's. They talk of a "marketing funnel" which moves a consumer from awareness, to consideration, then converting them to a "sale".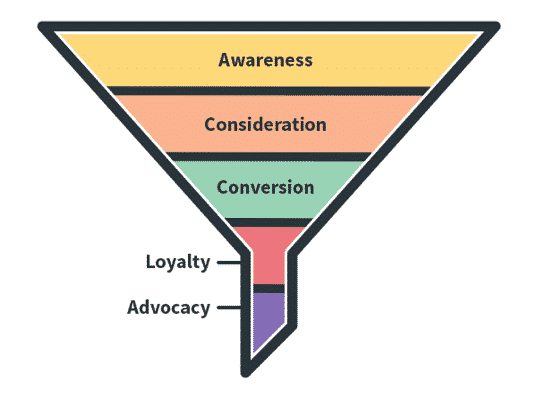 Some years ago, the smart folks at McKinsey argued in a paper about the consumer decision journey that the marketing funnel was more like a loyalty loop, where once a customer was "converted" the process continues and then the consumer becomes loyal and attracts new customers themselves – becoming an advocate for the product, and in this case, an employee becomes an advocate and helps to attract the best talent.
This is also happening in recruitment, but instead the "product" is a role at your organisation.

Marketing via your brand ambassadors.
Potential candidates have already started doing their research on your firm as a poetical place to work long before the job rec is even thought about.
One key source of research is from the people that work there, and these "brand ambassadors" can become one of your greatest recruitment assets without even being aware of it.
By structuring a formal brand advocacy program, you can enlist your existing employees to recruit new ones without them ever having to be featured in a recruitment campaign.
It means though that your key allies are now the marketing team, who most likely develop and control the marketing messages that emanate from your company.
Conversely, the marketing team need to also think like recruiters. If their marketing messages are now being disrupted and distorted thanks to the overload of content, then how can they ensure their messages stand out.
With authentic content from your brand ambassadors, both the recruitment and marketing teams benefit – but they have to work together.
As we start a new year, why not make a new year's resolution to pick up some marketing tips and think like a marketer.
Top 5 tips
Start to think like a marketer – learn the language of marketing (approach the Marketing team for a masterclass for your team – they will be flattered you asked)
Audit what assets are already available to job seekers beyond your jobs page
Identify and nurture your brand ambassadors to help enlist new candidates
Consider taking a marketing course from the CIM or other qualified institutions
Get a recruitment marketing campaign on the marketing calendar every quarter