I've been watching the emergence of big brands in the UK financial sector working more closely with the FinTech ecosystem, proving the adage – "if you can't beat them, join them".
A few weeks ago I was invited to the opening of the new Rise London FinTech incubator space in Shoreditch, developed by Barclays Bank – part of the "Silicon Roundabout" start-up area of London.
Quoting from their website
"Rise brings together the world's best and brightest start-ups and experts to create the future of financial services."
From what I saw at the launch, it's a Bank providing WeWork type services, and a community with a place to create. They have centres in New York, Manchester, Vilnius, Cape Town, Tel Aviv, and Mumbai with more to come I am sure. They have branded their spaces "The home of FinTech" which is a smart move.
I do wonder though when consultants say that large companies have to "think like a startup", especially when both consultant and client have quite possibly never experienced what it is like to be one. Blog readers may know that before IBM, I spent 12 years running a variety of start-ups in Australia and the UK ranging from a commercial property listing site, to a location services company, to Kred, a leading social influencer platform.
What those 12 years taught me was about being agile, about being innovative because you have to, not because you want to.
In order to truly "think like a start-up" you need to have experienced one first hand. In many ways, the Barclays Rise concept allows not only start-ups to connect with Barclays and more broadly the financial sector, but it also gives Barclays a chance to see first-hand what it is like to be a startup, and the challenges they face.
For this reason, I take my hat off to Ashok Vaswani and his team for having the courage to literally put their money where their mouth is and engage directly and in a meaningful way with FinTech startups.
When I explain the Barclays Rise concept to clients and colleagues, I tell them that it allows Barclays a first look at the latest Fintech innovations, and in turn in could provide them with first-mover advantage to invest or co-create with new and innovative technologies.
In my work as The Actionable Futurist®, I've had the great fortune to present to the entire Barclays Digital team – some 300 at their annual offsite where I heard first-hand how they are working with Fintech start-ups to develop innovative customer propositions.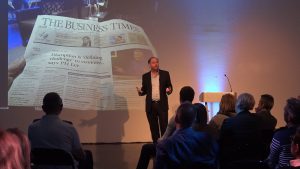 At the other end of the scale, Clydesdale Bank & Yorkshire Bank have created "Studio B" – a creative and funky space on High Street Kensington where consumers (as opposed to startups I presume) can come and "co-create" in a very non-bank studio environment.
While I have not had a chance to visit Studio B, I hope to in the near future and expand on this piece, rather than what I can see on the website and through the windows.
I wonder which UK high-street bank will be the next to follow Barclay's lead? Ones to watch also are the new "app only" banks such as Atom.