Life as a professional speaker is never dull. Take the time I was asked by the team at Onguard, specialists in Order to Cash solutions at 11am on a Thursday if I could step in to replace a speaker who was unable to attend and deliver a keynote in London to some of their key clients later that same day.
The scheduled speaker's management contacted the Onguard team at 9:30am on the same day to inform them that they had a family emergency and not only would they not be able to present at 3:00pm that day, they would also not be able to source a replacement while they were attending to the emergency.
Onguard's Vice-President of Marketing, Floor Stam-Lammers was understandably alarmed. The event in London was a flagship event for existing and prospective customers and the keynote speaker was one of the drawcards of the event. They were due to speak about what AI, Blockchain and Fintech means to finance directors. The prospect of cancelling on the day was not an option.
Floor literally did a google search for AI, Blockchain and Fintech speakers in London and came across the Raise The Bar website. where they have me listed as a speaker.
They have a handy chat function, and on the other end was Speaker Bureau dynamo Rucha Roberts. I've worked with Rucha on a number of speaking gigs this year, and she's super professional and fast! Rucha knew of my work and suitability for the gig so immediately contacted my agent, Michael Levey at Speaking Office.
When I received a call at around 11am asking me what I was doing at 3pm that day, I had no idea that I'd be keynoting with a new set of slides in just 4 hours. From the initial call to Rucha to a contract being signed for the gig it was just 60 minutes! That's agile in action.
Below is a shot of me in action on the day.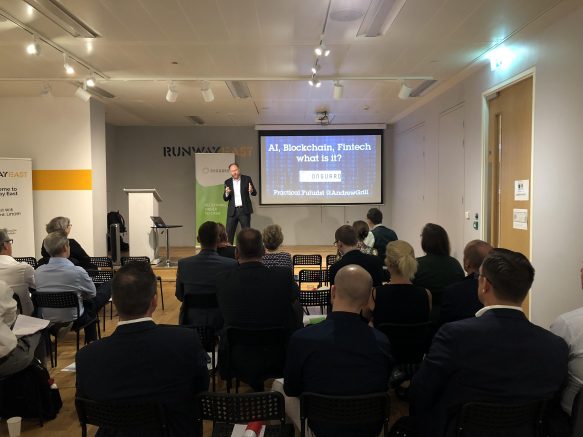 The talk went well and feedback from the delegates as well as Floor and her team confirmed that I delivered on what was needed as can be seen from her public comment on my LinkedIn profile.
It was a great afternoon and it allowed me to practice what I preach – that you need to be constantly open to opportunities and always running an agile approach in your business.
Post-script: Two people who saw me present suggested to their respective organisations that I would be a great speaker at their upcoming internal management kick-off meetings so I will be in Lisbon keynoting in front of 270 Taylor Wessing Partners in November 2018, and Prague in January 2019 for the Atradius Collections global kickoff.
A great outcome from a talk with almost no prep!
If you need someone to keynote at your next event on a wide range of topics, with anything from 3 months to 3 hours notice, then please do get in touch with my team at Speaking Office to see how I can help brighten up your next event.